What Will Shape Content Marketing In 2023?
Things you need to consider when writing your content strategy.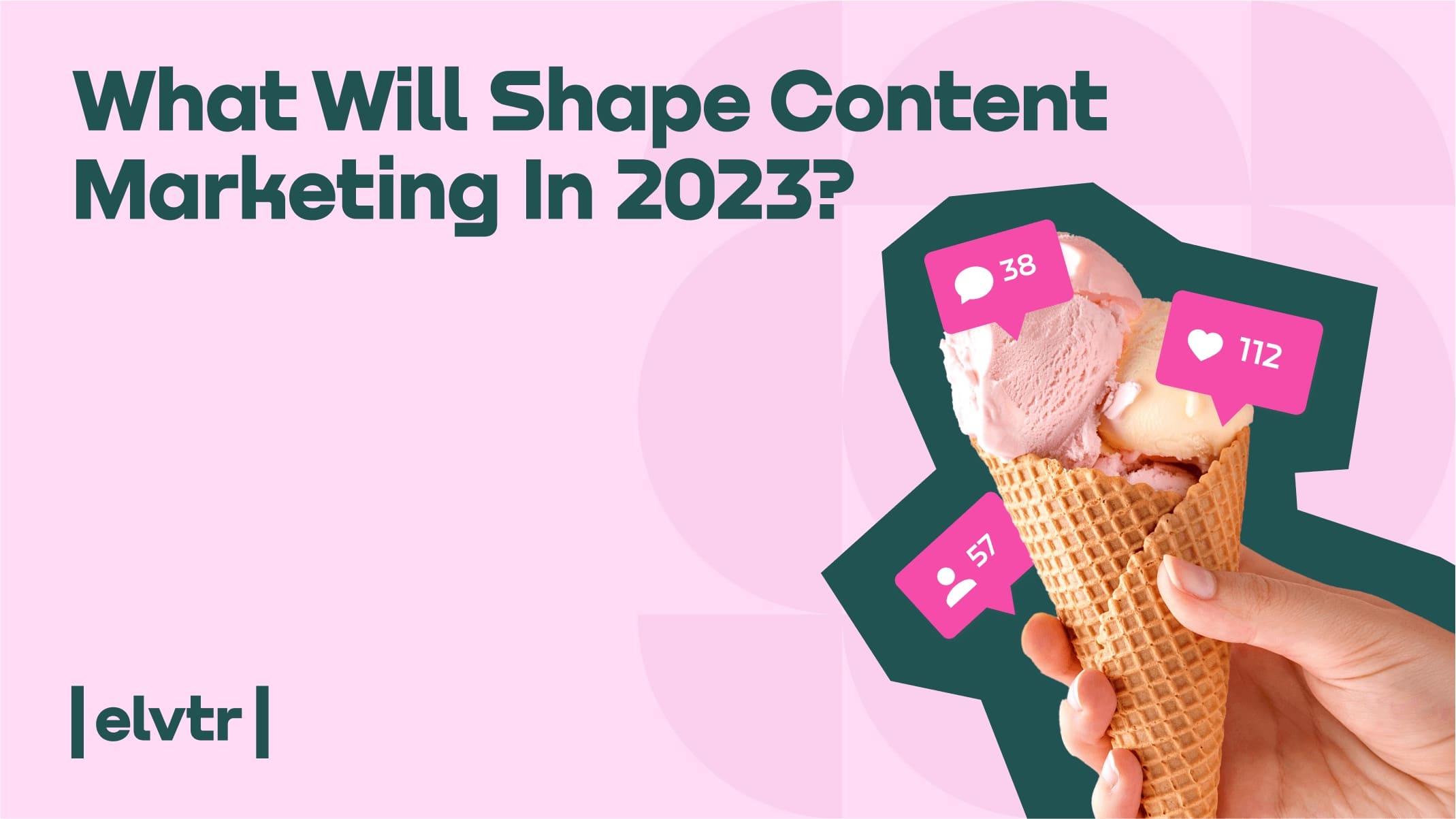 According to the Content Marketing Institute, 78% of marketers approach managing content strategically, but only a bit over half of them have a documented content strategy. However, it's a big mistake for the 2023 content-hungry society.
It is necessary to do a lot of work to create an effective content distribution strategy — to determine the goal of content marketing, analyse competitors and make a list of steps that will need to be taken on the way to the global goal.
Establish The Goals For Your Content Marketing
With every year, it becomes increasingly difficult to attract customers' attention on social networks. Therefore, there must be more than just a Digital marketing budget to win their trust. Each text must solve the audience's problems to receive traffic from publications on different platforms and improve the brand's image.
Many commercial companies use content marketing only as a tool for lead generation and conversion to provide information and solutions. But content can do so much more than that.
In 2023, marketers should use content to build communities and make connections. As customers become more interested in the value and ethos of brands, companies will foster and seek out relationships that will succeed.
Even though social media and email marketing still have their spot, communities are now driving most sales, says Kate Toon, founder of Stay Tooned. People seek places to belong, to reach out and get support from other humans. They also want to feel like they are buying from brands with similar values to their own.
Content marketing is often compared with SEO, email newsletters and SMM. Each instrument works in its way, but all of them cannot exist without quality materials. Content is the core of any promotion method.
The main difference of content marketing is that published articles can generate traffic permanently, and if you temporarily freeze SMM or email newsletters, the flow of target users will stop after a while.
If you combine the content with SEO and add relevant keywords to the published materials, the pages can bring traffic as long as they stay on the first lines of the search engines. Unfortunately, email distribution and SMM cannot provide such an effect.
With the help of content marketing, you can solve different tasks, but it is important to formulate goals before starting active work on creating and distributing materials. If you do not set specific KPIs, it will be difficult to assess the effectiveness of your work with content.
Choose Channels And Formats That Will Fit You The Most
It is essential to use different ways of distributing branded materials to get the most out of content marketing:
Publications in the company blog
Articles on external sites
Emails
Social media (including YouTube).
Without a complex marketing approach, a company regularly loses to competitors in the fight for customers' attention. And if other market players use the promotion tool to a partial extent, it is possible to bypass them with the help of interaction with the audience through quality content.
Chewy, an online pet products retailer from the USA, has adopted a unique approach to promoting its extensive product range. The brand's YouTube channel is a treasure trove of pet-related advice, featuring videos on animal health, training, and general pet care.
Most of Chewy's videos aim to provide valuable information to pet owners while subtly promoting their products. For example, in the video "How to Introduce a Dog to a Cat," the company showcases the materials needed to introduce the two animals, highlighting various products they offer.
Chewy's video descriptions also contain links to related blog posts on the company's website, providing pet owners with more in-depth information on various topics. The blog posts, in their turn, include links to relevant products on Chewy's website, encouraging viewers to visit and make purchases. This approach enables Chewy to educate and engage its audience while driving product sales.
Content marketing strategy can be implemented with the help of different formats. It is unnecessary to focus all the efforts on articles and lose part of the audience that prefers visual or audio content or vice versa.
The ideal content distribution strategy involves the active use of different types of content. The experience of world brands shows that commercial companies need to conduct diligent work in all directions.
Crunchyroll is a global US-based anime licensing, distribution, and streaming company. The brand employs various online marketing strategies to promote its services, including the Crunchyroll Collections YouTube channel. This channel showcases an array of clips and compilations from popular anime series designed to pique viewers' interest and engage them with the brand.
By presenting highly searched moments from popular anime, Crunchyroll Collections aims to keep the company at the forefront of online searches while demonstrating the vastness of the company's anime catalogue. The ultimate goal is encouraging viewers to subscribe to Crunchyroll's streaming service.
To this end, the channel features a prominent banner button that viewers can click to initiate a 14-day free trial, giving them access to even more engaging content.
Keep It Simple
Sometimes simple solutions are much better when creating something engaging. A piece of content that is too complex is more likely to confuse users, so it's important to keep things clear and straightforward.
Wordle can be a clear example of that. It is a popular online game bought by the New York Times that allows users to guess a five-letter word in six attempts each day. The site tracks users' winning streaks and lets them share their daily wins on social media.
As of February 2023, this page has received over 51 million organic views in the U.S. and has attracted over 1.9 million backlinks.
While Wordle is easy to use and accessible on any device, it is not particularly addictive or time-consuming. Users can engage with the game briefly and move on without getting consumed like they might with other games.
Consider Meaningful Creator/Brand Partnerships
With so much content available online, it can be difficult for users to sift through and find what is truly valuable. While there is undoubtedly great stuff out there, much of it misses the mark by being aligned with the wrong influencers or targeted towards the wrong audience. This is where a strong partnership between content creators and brands can really make a difference.
As we move through 2023, many content creators focus on growing and expanding their reach. This means they seek out brand partnerships, rather than just sponsorships, that align with their content and allow for a more natural integration of branded materials. In addition to financial compensation, creators are also looking for guidance and support from brands to ensure the partnership is successful.
Interestingly, according to research by Deloitte, financial compensation is not always the primary motivator for content creators when it comes to brand partnerships. Other factors, such as alignment with their values and the opportunity for creative freedom, can also be valuable considerations.
Companies should look more to content creators in the future to help brands appear and be seen through all of the noise.
Avtex Solutions, a firm specialising in customer experience management, took a unique approach to its marketing strategy by creating an engaging video content platform featuring industry influencers. The resulting online series, "Experience Points," is a mix of the game show and expert discussions.
To bring this concept to life, Avtex partnered with two leading influencers in the field to serve as hosts and invited high-profile customer experience experts and practitioners to participate as contestants. The show is divided into three mini-games where contestants can earn cash for their preferred charity by answering CX (customer experience) questions and sharing insights on delivering exceptional customer service.
The results were outstanding for Avtex as it surpassed its impressions, web visits, and video views goals. The show won the "Best Use of Influencer Marketing" prize at the 2021 Content Marketing Awards. The series also helped Avtex build new relationships with industry experts and influencers, leading to organic recommendations to potential new clients.
Remember That Regularity Is Vital
If you use all available content marketing tools, you will be able to cover different channels where your target audience might be. With this approach, the effectiveness of your work will increase significantly, but it is crucial to conduct it on a regular basis.
Users quickly get used to a stable flow of helpful content, and if you stop the distribution even for a week, it will be difficult to restore the previous coverage. Therefore, it is necessary to make a schedule that the content creation and distribution will adhere to.
video caption