Ways to Create Logos, Pictures and Videos Using AI
A guide featuring real artwork created by robot.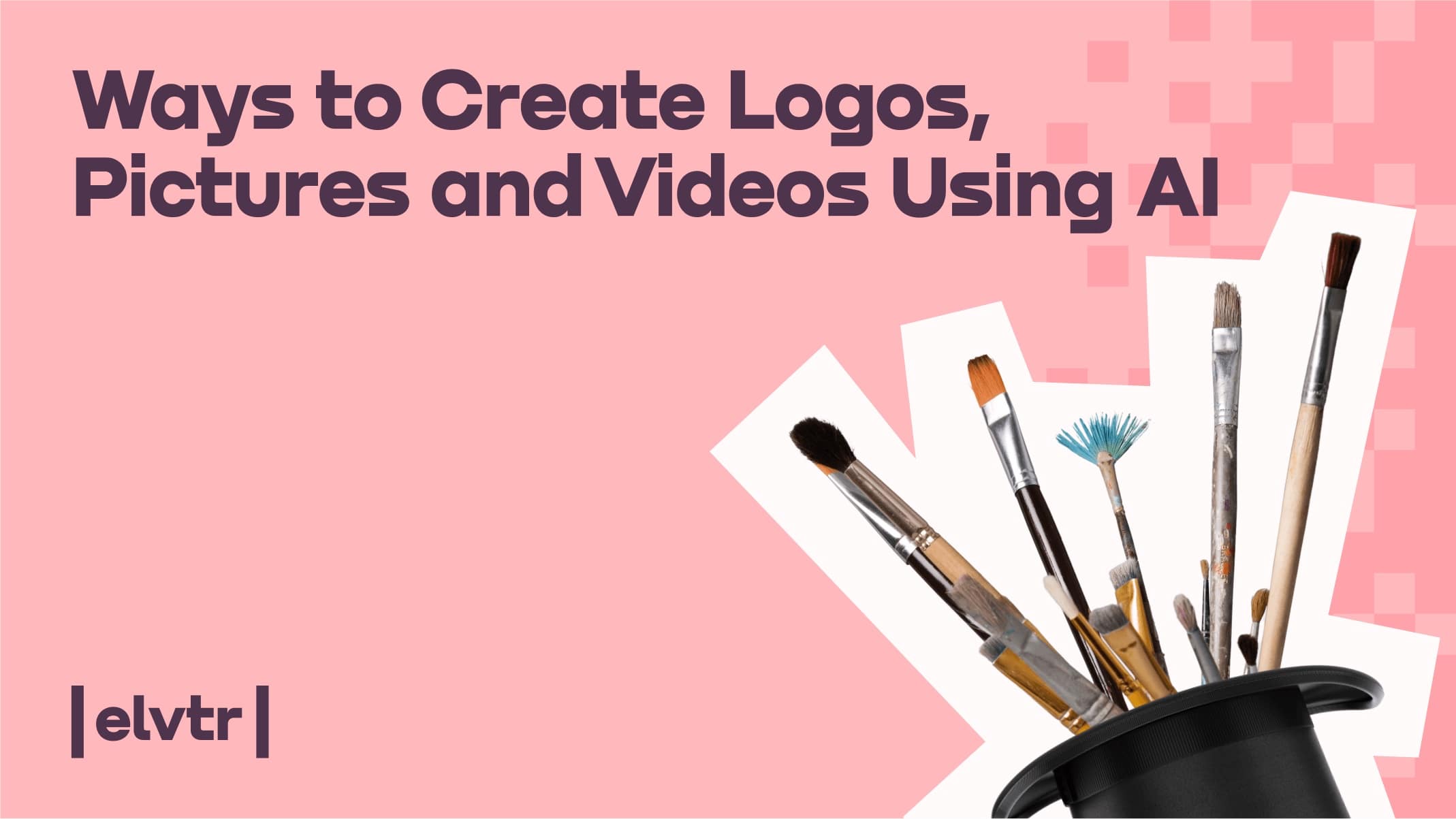 Artificial Intelligence products have taken over the world: AI writes books, creates visuals, and even passes university exams. World-famous brands like Cosmopolitan and Vogue have also succumbed to the trend and released magazines with AI-generated covers.
Ways to create photo and video artwork for your business easily, quickly and without design skills using AI. Let's explore how to craft photo and video creatives for your business using AI – easily, quickly, and without any design skills.
What AI Image Generators Are Available
US Cosmopolitan magazine created the world's first cover using the DALL-E 2 neural network. AI generated the picture on the magazine's front page in response to a request for "a wide-angle shot from a lower angle of a female astronaut with an athletic build, who moves complacently towards the camera in the infinite universe on Mars in digital art style."
DALL-E 2, developed by OpenAI, generates images based on text descriptions. In addition to pictures of objects (shoes, clothes, furniture), the AI can create new images.
You need to register on the platform to start working with DALL-E 2. If you have already used a Chat GPT created by the same company, the profile will be linked automatically. Upon confirming your email or phone number, you can immediately start working with DALL-E 2.
You can give the AI your request or press the "Surprise me" button. After clicking "Generate", DALL-E will create four images 1024x1024 based on the given description. Your prompt for the bot can include up to 400 characters.
If you want to create the most realistic image possible, add the camera model, lens focal length and type of lighting ("studio lighting", "deep shadows") to your prompt. Until you get used to the amount of detail you need to include to get what you want, you will have to spend a lot of time correcting the first drawing.
We asked the robot to create stickers for the packaging in British style:
On the next screen, you can upload an image, edit it, search for similar images or share it. For example, we have selected a picture and removed the text from it using an eraser:
In addition to the eraser, the editor can upload its image and "embed" it into the generated image or add more pixels to upscale the picture. There is also an opportunity to create variations based on the selected image, and DALL-E 2 will offer four alternative versions.
First, we asked the AI to make variations of Sandro Botticelli's picture, The Birth of Venus. However, the bot refused to do it either because of copyright or nudity.
However, the author of this text did not give up and sent DALL-E a photo of her dog, as the dog cannot cite copyright infringement (although he should, looking at the result). Here are four variations that were generated:
It is unlikely that DALL-E 2 will produce the desired results on the first try. You will probably have to edit the images by writing new prompts.
Life hack: graphic designer Guy Parsons created the DALL·E 2 Prompt Book. He suggested some useful tips to get the most out of this art generator.
In this manual, the author notes that even the creators of DALL-E 2 have no idea what their tool knows and what doesn't. It is up to users to figure out what it is capable of and how to get it to do what they want.
Price: once registered, all users receive 50 free credits/generations. This is enough to figure out how the tool works. Later the service accrues 15 free DALL-E 2 credits each month. One can then purchase 115 credits for $15, which is enough to create 460 images.
​AI-powered image generator Midjourney works on the Discord platform. You send the text to the chat room, and the bot responds with four images. If you like one of them, you can enhance it.
It is simple to get access to Midjourney. If you already have a Discord account, you don't even have to register. You can access the channel by clicking on the "Join the Beta" button on the Midjourney website.
To get started, open any of the rooms called "newbies". There is no real difference between them, so you can use whichever one you like.
To get Midjourney started, just type /imagine command and in the prompt field that appears, enter a text description of what you want to generate. Before you begin, click "Accept ToS" (Terms of Service). Without this the bot will not start working.
As an example, we asked Midjourney to generate a character for the cover of ELVTR magazine.
Price: 25 free first generations, then $10 per month for the Basic Membership which lets you create up to 200 images.
Open source code is the key difference of this service. Everyone can create tools they want on its basis.
If you don't have the energy or desire to build your own product, you can use this AI the same way as other generators. The principle of operation is virtually the same for the average user.
To start, enter a detailed description of what you want to draw. Then choose from the images that appear or "pour" more details.
The ability to convert a user-drawn basic sketch into a quality image or create a picture from an uploaded image is the key feature of Dreamstudio. It is possible to adjust some parameters such as width and height during the operation.
Profound task: we asked to add aliens in pink suits to Van Gogh's Starry Night painting. The top right image is rather good.
Price: upon registration you receive 200 credits (one credit equals one rectangular image). After that, 1,000 credits will cost you £10.
Photosonic is one of the simplest and most user-friendly AI services. It features a minimalist interface and multiple image styling options. Thus you don't have to delve into complicated processes, and it will be easier to perform the desired task.
To get started, select an image style, size, describe the details and click Generate.
Here's what the bot generated after our request of the Taj Mahal image in Painting style:
Here is what the service suggested as a logo for a health food brand:
And this is how the same request looks in anime style:
Important: images created in the free version will be watermarked.
Price: you get 10 free images after registration. Later, 100 images will cost $10.
Playground AI is an online image creation platform that uses two popular AI "engines" – Stable Diffusion and DALL-E 2. The service can generate images itself and work with uploaded images.
In the upper left corner, you can choose the style of the future image: from the perfume ad vibe to cyberpunk. In the upper right corner, you can select the type of AI (only Stable Diffusion is available in the free version), image size, quality, level of detail and number of images to be generated.
As a test, we asked the service to make a logo for the ELVTR app, uploading our current logo as an example:
An important bonus: in this editor you can immediately make changes to images created by AI. Next, we asked to change the background colour of the version we liked:
Price: a free account will give you 1,000 images per month. Paid rate starts from $10 per month.
What Video Generators Are Available
​Pictory is an AI-powered video generator that makes creating and editing high-quality videos easy. The service has a large library of 3+ million free clips and photos. The service can create videos on its own, e.g. based on an article.
We asked Pictory to generate a video based on a recent blog article.
First, the AI analyses the text and searches for keywords. Then it splits the material into scenes for a future video. You can edit the scenes offered by the service:
During the next step, you can choose a visual design from the service's database or upload your own. First, you shall decide on the type and style of the text:
In the selected template pick the required video format:
The image from the article is the default screensaver. However, you can change it, as well as the background of other slides:
In addition, you can add sound to each slide: either record it in this service or upload the ready one.
Once you have selected the background for all slides, edited the text and selected the background sound, the service generates the finished video.
Here is what we have got as a result:
It took the service 7 minutes to generate this 2-minute video. All in all, it took about 20 minutes to create the video from scratch – just because of the torment of choosing the right video background from among all those you liked.
Price: there is a free trial and 3 paid rates that start from $19 per month.
FlexiClip has an advantage due to its huge library of templates and the ability to customise them. In addition, the service can cooperate with photo and video stocks (4+ million free files). It means you can use stock images to create your project without having to worry about copyright or buy anything extra.
FlexiClip allows downloading videos with stock elements for free, but it will add its watermark to the final result. You have to pay for a service to get rid of this watermark.
On average, it takes the AI up to 15 minutes to create videos. The tool can combine photos, clips and music to create professional videos.
While selecting a template, you can immediately specify the required resolution. By default, the service offers adaptations for social media, i.e., posts and stories, or a regular video.
Next, the customisation of the video begins: you can rearrange the frames, upload your own clips, change the text, frame length, total time of the video, etc.
You can also select the language and even the accent of the text reproduced: for example, there are six accents of English. You can also choose the gender of the speaker. The voice playback is somewhat similar to the way Siri speaks, only in a more "humanlike" version.
From time to time FlexiClip is overloading, and the page refreshes. This is unpleasant but not critical, as every change is saved automatically, and you don't lose progress.
Price:
Basic: $4.19 per month
Plus: $6.99 per month
Business: $13.99 per month
Videomaker is an advanced AI algorithm that selects the best images and videos for your scenes by itself.
The workflow in this service is as follows:
Open AI Videomaker
Write a headline
Write a script for the video. There are several European, Slavic and Arabic languages to choose from)
Select font colour
Select Call to Action
Select language
Select AI voice
Save the finished video
You can edit videos created using this service, i.e., change the background or template. You need to register to save the video.
Price: free promo version. Paid plan starts from $29 per month.
video caption