Selection of Bright and Catchy Slogans
The best global brands and their advertising campaigns.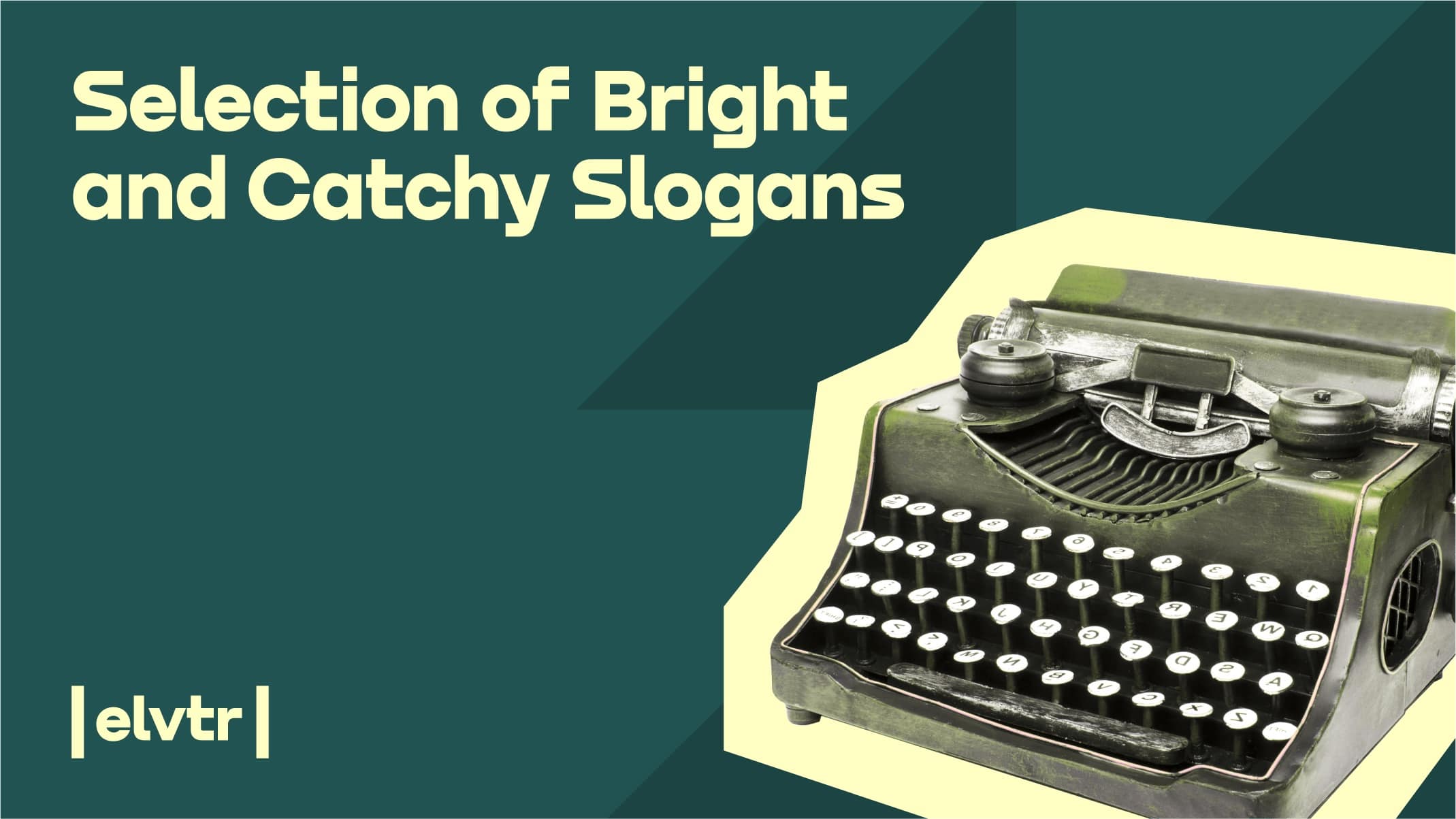 Did you know that the phrase "come alive," literally translated into Chinese, means "to rise from the grave?" Pepsi didn't know this either. When they adapted the slogan "Come Alive with the Pepsi Generation" for the Chinese market, they literally promised to get the ancestors from the graves.
Approach the creation of a slogan wisely to avoid such situations. First, study the cases of other brands. We have collected examples of the most successful and catchy slogans for inspiration.
Apple: Think Different
This advertising slogan was created in 1997 in response to the "Think" motto of IBM, Apple's direct competitor. According to Forbes, a year after the launch of the "Think Different" slogan, the company's shares tripled in price, although they did not present any significant new products.
Nike: Just Do It
In 1984, Nike lost its top position in the sports shoe market for the first time as Reebok became the leader. Nike Company had to reassess its target audience, and it began to focus on everyone, not only on athletes.
Dan Widen, the co-founder of W&K agency, had difficulty convincing Nike to use the "Just Do It" slogan. However, after its launch, Nike's revenue grew almost 30% in a year, and over the next ten years, the company's sales increased by 1,000%.
Coca-Cola: Open Happiness
In 2009, before launching a new advertising campaign, Coca-Cola conducted a study in 16 countries to determine what makes people happy. 77% of people said that communications in the real world with family and friends make them happy. This is what marketers took as a basis for creating commercials and outdoor advertising.
Pepsi: The Choice of a New Generation
Pepsi and Coca-Cola were always competing. And while Coca-Cola promoted family values, Pepsi decided to communicate with the younger generation. In the early 1960s, they paid attention to the new culture that arose as a result of the baby boom after World War II.
Pepsi Company ads portrayed enthusiastic young people doing what they love. This gave way to a new standard of advertising, where brands associated themselves with the lifestyle of consumers and did not only talk about their products.
In 1984, Michael Jackson starred in several commercials for the new advertising campaign, and they received an incredible success.
Red Bull: Red Bull Gives You Wings
In the late 80s, Dietrich Mateschitz planned to release an energy drink he tried in Thailand. He appealed to his school friend Johannes Kastner for help with a request to develop an identity for the future Red Bull brand. The work on the slogan was intense as Kastner offered many different options, and Mateschitz rejected them all.
After all, Kastner wanted to abandon the idea, but his friend asked him to come up with one more last phrase. The following day, he suggested the "Red Bull Gives You Wings" motto. The product entered the market with this slogan.
McDonald's: I'm Lovin' It
Heye & Partner agency (Munich) developed this advertising slogan and the new brand concept as part of a competition from McDonald's back in 2003.
They managed to create a truly universal slogan that received all target audiences' feedback. "I'm Lovin' It" is the only slogan used in every country where McDonald's operates.
Airbnb: Belong Anywhere
Airbnb's slogan is not just advertising but a brand mission. The "feel at home anywhere in the world" message is evident in their communication, advertising, and product.
The brand did not stop at this slogan alone. In 2014 they introduced an identity where even the font displays a new positioning.
Burger King: Have It Your Way
The slogan was launched in 1974 to emphasise the difference from the main competitor, i.e., McDonald's. The idea of self-expression was very relevant at that time, and Burger King hit the target.
In addition, they offered a unique product – a hamburger, to which the buyer can add any toppings. This is "Have It Your Way" for real.
Dunkin' Donuts: America Runs on Dunkin'
Dunkin' Donuts is an international chain of coffee houses operating in over 40 countries. They came up with their advertising slogan in 2006 to reflect the need of the working population for caffeine. The advertising campaign was broadcast via 16 ads, 9 radio commercials, and print advertising.
The results were immediate: 6 months after the campaign started, Dunkin' sold about 2.7 million cups of coffee daily. For comparison, a few years earlier, Dunkin' Donuts celebrated the first 8 million cups of coffee they sold during their 50 years of operation.
KitKat: Have a Break. Have a KitKat.
The slogan was launched into advertising in post-war Britain in 1958. Workers, who sometimes could not take even a few minutes for a break, were the main target audience of the message. Taking KitKat chocolate bar with you to work and eating it during a break was easy.
The slogan "Have a break. Have a KitKat" became associated with valuable rest during the working day. This resulted in a world record. The Guinness Book of Records recorded that 13,2 billion KitKat chocolate bars were sold worldwide in 1995, and 418 chocolates were consumed every second worldwide.
De Beers: A Diamond Is Forever
The Great Depression resulted in a decline in diamond sales in the early 1930s. The slogan of the well-known jewellery company was created in 1948. Until 1999 it appeared in every advertisement of the brand.
This advertising campaign reversed the situation completely: in 1940, only 10% of brides received diamond engagement rings, and in 1990 this number increased to 80%. According to De Beers, from 1939 to 1979, their diamond sales in the US alone increased from $23 million to $2.1 billion.
AdAge, one of the most reputable advertising publications named "A Diamond Is Forever" the best slogan of the 20th century.
MasterCard: There Are Some Things Money Can't Buy. For Everything Else, There's MasterCard.
This MasterCard Company slogan was launched in advertising in 1997. It became so viral that it was translated into 46 languages, and an advertising campaign was launched in 98 countries.
Visa: Is Everywhere You Want to Be
In 1985, Visa USA was the world's most significant credit card issuing company, but it didn't have a specific image. American Express occupied the niche of payment for travel and entertainment when MasterCard was aimed at consumers with average and low incomes.
Visa realised: its advantage is that sellers around the world accept Visa more than any other credit card. Thus, in 1985, the slogan "Visa, Everywhere You Want to Be" appeared. The advertising campaign won EFFIE, Clios, and Cannes Lions. Visa's credit card market share increased from 43.8% in 1985 to 52% in 2004.
BMW: Designed for Driving Pleasure
The slogan of the BMW company shows the main advantage of the brand, i.e., high-performance cars that are pleasant to drive. This message is emotional in nature, and consumers pay not only for a car, but also for the right slogan.
Nokia: Connecting people
This is a company mission statement that has guided them since 1992. The slogan really worked as until 2009, Nokia was the leader among smartphone manufacturers and controlled more than 39% of the market share (e.g., Apple had 17% in the same year).
The New York Times: All the News That's Fit to Print
Some say that these are the most famous seven words in US journalism. They just appeared in a newspaper issue 123 years ago without any comment.
Until now, their slogan remains a mystery and a topic of debate. For their 150th anniversary, The New York Times published an article, where they wrote: "What exactly does it mean? You decide."
Old Spice: The Man Your Man Could Smell Like
The advertising campaign with this slogan was initially launched to sell one Old Spice product. However, after a fantastic success, it expanded to other brand products, and the company released a series of commercials. This campaign was aimed at women, even though men are the product's target audience. Marketers started from the fact that women are more likely to purchase hygiene products for their men.
In 2010, this advertisement won the Grand Prix at the Cannes Lions International Advertising Festival and a Primetime Emmy Award for outstanding advertising.
Ways to Create a Perfect Slogan
A Journal of Business Research study shows that there are three main factors that determine whether people like a slogan:
message clarity
creativity
brand affinity
The slogan is always created for the brand and its target audience. However, there are a few rules that will increase the chances of success.
#1. Make your slogan short and clear
American psychologist George Miller formulated the 7±2 rule back in 1956. It says that the average person can remember from five to nine objects.
This principle is still used in various areas, even in creating interfaces (if there are more than 9 menu items, they are grouped).
#2. Stay versatile
While working on creating a company slogan, think about how relevant it will be in a year, in five, or ten years.
Your brand may change over time, but the slogan shall be durable. Therefore, it would be better not to use words such as "only" or "unique." Firstly, it is not creative at all, and secondly, it may become irrelevant over time.
#3. Make sure the slogan can exist on its own
Your slogan should not be a mystery. It shall tell the audience about your brand and need no further explanations. For example, Cartoon Network's "The Best Place for Cartoons" slogan tells people precisely what they'll get when they turn on the channel.
#4. Analyze your target audience
Imagine your consumers, their desires, habits, and pains, and create a message they will understand.
If you promote your brand in international markets, ensure your slogan is appropriate for different cultures. It may lose its uniqueness or even change its meaning when translated into other languages.
Take KFC, for example, which decided to use the "Finger-lickin' good" slogan in the Chinese market. When translated into Chinese, it literally meant "Eat your fingers." Sounds not very delicious, isn't it?
#5. Be honest
Do not overestimate yourself. Are you sure that you really have the best quality your slogan promises? If not, change your slogan.
Think about what makes your brand unique and ponder on it. There is a simple exercise – imagine what your product would say to your customers if it could speak.
video caption