Marketing In 2023: Trends And Expectations
Discussing what is shaping the marketing world this year.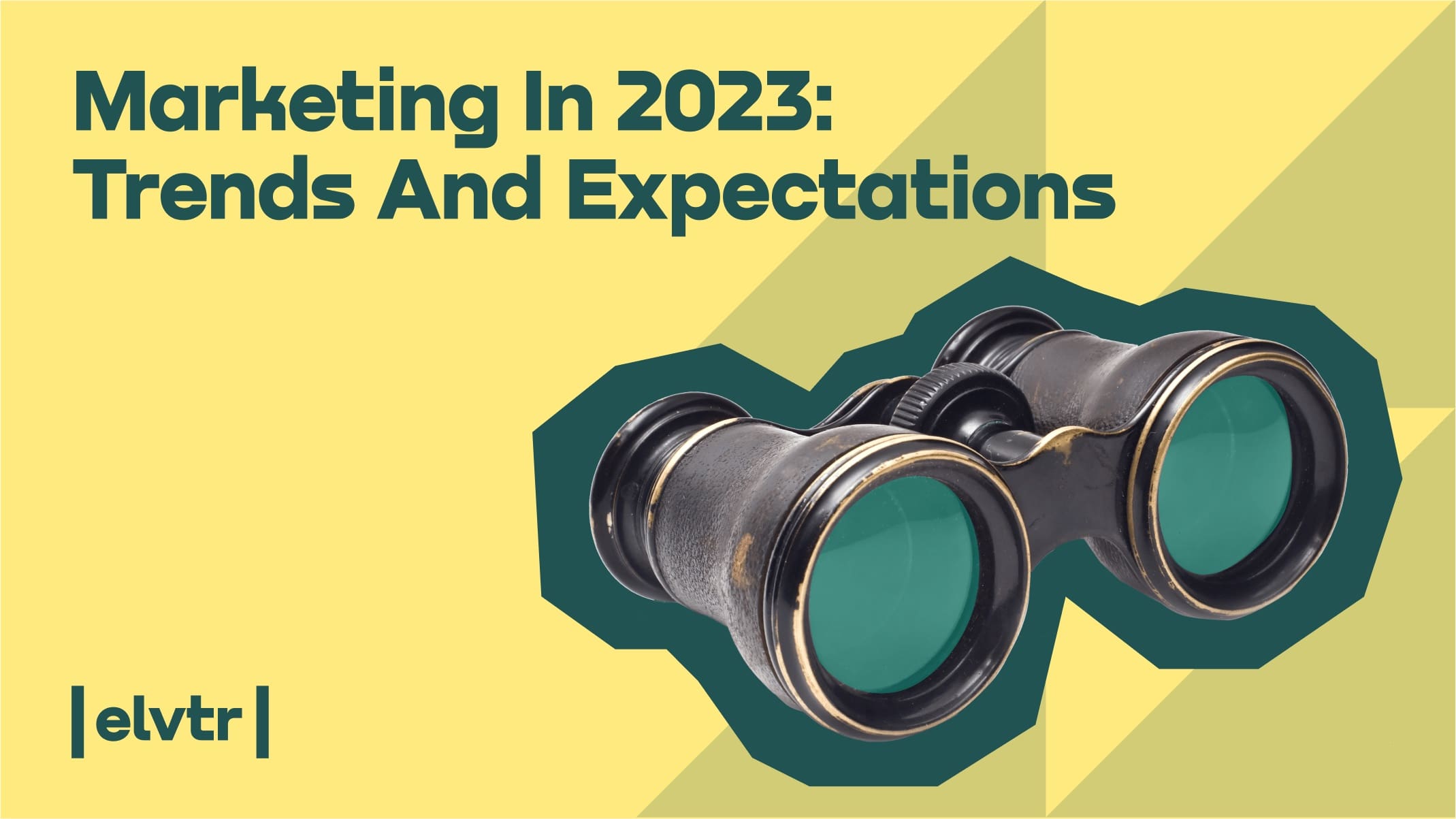 In 2023, brands are facing not only an increasingly discerning customer base but also a global cost of living crisis. In today's competitive market, consumers are becoming increasingly selective about the products and services they purchase.
As a result, it is essential for brands to prioritise transparency and carefully consider their messaging and strategies to remain competitive. Moreover, to stay ahead of the curve, it's imperative for marketers (and not just them) to stay up-to-date on emerging trends and leverage them to their advantage. And this article will help you with this task.
#1. B2B Is Changing The Most
B2B marketing usually seems boring or at least less exciting than B2C, but not in 2023. Much can be said about the fundamental differences between B2B and B2C marketing, but the tendency of their systematic aggregation is apparent.
The client direction is happy to adopt the experience of a more fundamental business model, rejecting only the emotional and profitable at the time of positioning and emphasising long-term relations with the client. And the B2B industry no longer only observes but also actively borrows business trends for customers, introducing elements of social commerce and emotional response into the sustainable image of a business expert.
Of course, these are different client paths, buyer cycles, and decision-making terms, but the tools may overlap in many ways. And if you had to choose just one word to describe the trends in B2B internet marketing in 2023, you would have to introduce a new term — B2Clization.
New approaches for B2B, taken from B2C:
Cisco research has shown that video accounts for 82% of all online traffic. Videos are becoming a continuation of trends in educational marketing and work with perception.
In the B2B marketing sector, it becomes increasingly essential to be creative in marketing and use channels and tools available to be memorable. Video is already widely used by businesses; according to research, 86% of companies using it as a marketing tool and 92% consider it an important part of their strategy. And it will be one of the most potent ways to inform and connect with customers in 2023. For the B2B sales and marketing cycle, video will also play an important role.
LinkedIn has become a place for people to create user-generated content, and video is one of the most popular tools there, so it can act as a connector with clients.
You can easily communicate with any channel of customer perception. Tell, show, explain — and you will receive loyalty and a desire to continue the interaction.
Do not delay the timing and do not tire the user, respect their time. Be sure to subtitle videos - according to various sources, between 10 and 20% of users watch videos without sound.
Relevant And Interesting Content in Social Media
Social media is also an effective way for B2B brands and their sales team to connect with customers. For businesses operating in B2B and with extended sales cycles, it's especially critical to leverage digital channels to disseminate informative and pertinent content.
However, it's important to distinguish between sharing content that solely focuses on promoting sales and utilising content to foster engagement and establish meaningful relationships with potential customers. According to Julie Atherton, a social transformation specialist and writer, this approach will be the key driver of success for businesses in 2023.
She says it will become increasingly evident which businesses are committed to enabling and encouraging their teams to leverage social media to build meaningful relationships with their audience and which companies view social media merely as a channel to broadcast sales messages.
The distinction between these two approaches will be crucial for companies seeking success in the digital landscape.
Some examples of valuable content that businesses can share to engage their audience and establish thought leadership include the following:
industry news updates
third-party research findings
press releases or announcements
video and blog-style interviews on relevant topics
in-depth features
podcasts
By providing informative and relevant content, businesses can build credibility and trust with their potential customers, ultimately driving conversions and sales.
#2. Social Media — The Rise Of Creators
The use of social media platforms for marketing will continue to evolve through 2023, and brands will have to keep up to have a presence and use the platforms effectively.
TikTok, for example, is becoming a significant player in social media marketing, with approx. 1.8 billion monthly active users at the end of 2022. In 2023, the platform will become more advantageous for brands as it concentrates on enhancing targeting capabilities for advertising and improving business usability. This will make TikTok a bigger and better platform for brands.
The recent developments at Twitter have brought attention to the susceptibility of social media platforms. Consumers are becoming less interested in billionaire-led platforms and instead seeking more control over their content and data.
Platforms like Mastodon, which is built by the masses, and BlueSky, developed by Twitter's ex-CEO, Jack Dorsey, are emerging as potential alternatives. Platforms like these will provide creators with independence from social media while offering developers the flexibility to build on their own terms and users the freedom to choose their own experience.
In 2023, social media platforms will continue to prioritise brand awareness, which means that marketers will need to look for creators who have a distinct voice and dedicated followers. However, creating compelling content that captures customers' attention in a world where time is a treasured commodity will remain a significant challenge for brands.
That's where content creators come in, and it doesn't mean high-level influencers. It can be employees, customers, or even subject matter experts in a niche area. The emergence of content creator funds on platforms like TikTok, YouTube, and Twitch means there's an incentive for creators to put time into creating content a brand could take advantage of.
#3. Automating Routines And Repetitive Tasks
Anticipatory marketing is set to replace technical-based marketing in 2023, enabling marketers to predict customers' needs and incorporate them into automation processes. This shift in mindset will improve efficiency and allow for greater personalisation, applicable to platforms such as Google Ads and indicating the direction of Facebook and other social channels.
Automation has been an ongoing trend for many years and has accelerated in recent years with advancements in technologies such as artificial intelligence, machine learning, and robotics. One of the significant trends in automation is the use of chatbots and virtual assistants in customer service, which has improved customer engagement and reduced response time.
According to Gartner, by 2024, organisations whose IT teams comprehend customer requirements will surpass other organisations' customer experience metrics by 20%. Achieving this comprehension will necessitate the utilisation of automation tools for internal operations and improving customer experience. Such means may include marketing tools for CRM, social media, advertising, lead management, and email marketing tools.
Marketing specialists are beginning to use artificial intelligence methods such as data models, algorithms and machine learning in their everyday work. It helps to better understand the target audience, optimise costs, determine the specificity and type of content, personalise interaction with customers, increase their loyalty, and better understand behavioural tactics.
2023 is also significant as the year of the arrival of GPT-4 (Generative Pre-trained Transformer 4), a cutting-edge tool that can help automate many tasks.
Developed by OpenAI, it is a deep-learning text-generation model trained through various content available online. It's already been used for questions and answers, text summarisation, machine translation, classification, code generation, and conversation AI, and it opens up new opportunities for marketers.
Microsoft is one of the first companies to integrate ChatGPT-4, for Microsoft Edge in its service Bing Chat. Bing Chat works exactly like ChatGPT and quickly answers questions from users.
Koo, a microblogging platform from India, also uses ChatGPT-4 on its platform, but this feature is available for verified users only. Creators will be able to design and draft posts with the help of ChatGPT.
#4. Martech Spending Will Continue Growing
Marketing technology, or Martech, is the software utilised to create and measure the performance of both online and offline content, campaigns, and experiences. It serves as an efficient means of streamlining customer journeys and implementing omnichannel marketing strategies.
There are more than 10000 companies offering Martech products. And the number keeps growing.
According to eMarketer, Martech spending in the U.S. exceeded $20 billion for the first time in 2022, representing a year-on-year increase of 15%. This investment is attributed to companies seeking to collect and store data, utilise it to make informed decisions and implement those decisions.
Interestingly, B2B companies account for over 30% of this expenditure, which is expected to increase moderately to $8.5 billion in 2024.
The Martech industry is constantly evolving, making it difficult to keep up. We work with a platform, identify gaps, and subsequently discover a new technology platform that fills those gaps within the next year or six months. It's a massive and ongoing process.
#5. Focus On Data Privacy
With data breaches becoming more common and consumers becoming increasingly aware of data privacy concerns, companies will continue to invest in secure data storage and build trust with their customers.
In 2023, there will likely be a greater emphasis on transparency in data collection and usage, with companies clearly communicating their policies to consumers. Brands will also need to ensure that they are compliant with data privacy regulations such as GDPR and CCPA.
#6. Sustainability And Ethical Practices
People in the world are increasingly concerned about environmental and social issues, and in 2023, brands will need to demonstrate their commitment to sustainability and ethical practices.
This could include using eco-friendly packaging, reducing carbon emissions, and partnering with organisations that support social causes. Brands will also need to be transparent about their supply chains and ensure they do not support practices that harm people or the planet.
For example of the sustainable brand, let's look at Seven's Generation. This cleaning company completely revolutionised cleaning industry by creating products that eliminate harmful toxins and chemicals. In a sector where reliance on these chemicals had been the norm for decades, Seventh Generation had to begin from scratch and develop a unique cleaning formula in order to become one of the world's most socially responsible brands. Nonetheless, their efforts paid off handsomely, as the company recently achieved top ranking on Forbes' prestigious "Best for the Environment" list.
By prioritising sustainability and ethical practices, brands can earn the trust of their customers and differentiate themselves from competitors who are not taking these issues seriously.
video caption