Jung's Theory: 12 Brand Archetypes and Their Features
How to choose a character and persona for a brand?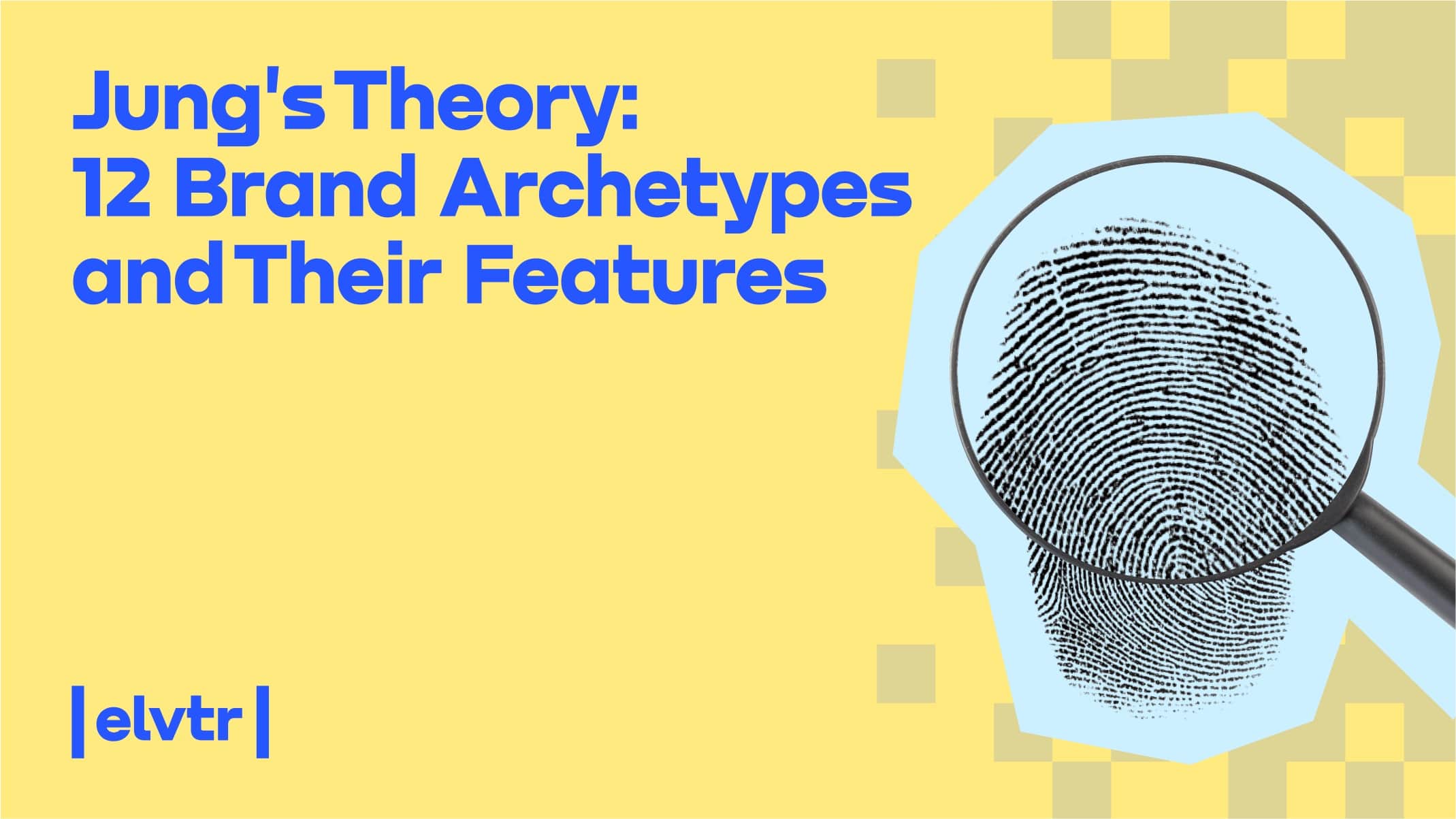 Snickers is the best way to fight hunger. Bounty is associated with some tropical islands. Coca-Cola's Santa is connected to family values. Each of these brands created an image and strong associations for their products in communication with the consumer.
These are the qualities peculiar to archetypes. We will tell you why they are essential and how to create a brand in terms of the theory of psychoanalyst Carl Jung.
What Is Archetype and How It Works
To be closer to the audience, brands become part of their real world and create guide characters, like Nesquik bunny and Jolly Green Giant. These characters appeal to values that resonate with people. This is because brands know their target audience and use research data in communication competently.
Archetypes are behavioural programs we implement throughout our lives. Brands choose their archetype based on strategies, behaviour patterns, and manner of communication with customers. This is a living image that is created considering the peculiarities of target customers and the brand concept.
All archetypes are present in a person, but one is the leading one. It is the basis of the archetype. The theory itself is based on the following:
the main desire of a person
goals and values
emotions
fears
strategy and logic
social and individual aspects
Carl Gustav Jung was the first to discuss archetypes. Margaret Mark simplified and introduced this concept into marketing in her book "The Hero and the Rebel" about unsinkable brands.
Archetypes are used in all brand communication channels, from social media content to the choice of ambassadors.
Twelve Archetypes and Their Features
Jung's theory was simplified and based on 12 models of human behaviour. American marketers divided these archetypes into 4 groups according to the dominant motive. Each archetype corresponds to the need that a person experiences when trying on an image.
Group 1: focus on individuality and independence
Main features of group archetypes: growth and curiosity.
#1. Innocent
Features: low and medium price range, maintaining a good reputation, simple communication, associations with lightness, ease, and childhood.
Examples of brands and personalities: Forrest Gump, Coca-Cola, McDonald's.
Ways to sell to the Innocent: focus on family values, connection with the family, and home comfort. It's worth learning from Coca-Cola as the company often uses flickering lights on the street and decor from tangerine tree branches in their advertising — the symbols of comfort and holiday.
Target ads at:
those who like to equip the house and create a cozy atmosphere
lovers of decor and holiday attributes
vegetarians and vegans
consumers who care about the environment
It will be effective to advertise:
vegan products
clothing made out of natural fabrics
cosmetics that are not tested on animals
household and garden goods
decor items
coffee and tea
goods for children
The Innocent lives in a utopian world. He needs to be a part of it. The main fear of the archetype is to drop out of society. Therefore, he always tries to do the right thing to avoid becoming an "odd man out." Trends can easily influence this archetype if following them can improve the world around him.
#2. Explorer
Features: innovative product or service approaches, the ability to express individuality through purchased goods.
Examples of brands and personalities: Starbucks, Amazon, Louis Vuitton, Subaru, Johnny Depp, GoPro.
Ways to sell to the Explorer: focus on usability. Since the Explorer spends a lot of time travelling, his clothes shall be comfortable and versatile, the backpack should be reliable, and the thermos bottles should be as compact as possible.
Target ads at:
hikers
people who spend a lot of time travelling
freelancers or "remote workers"
It will be effective to advertise:
sportswear
goods for travelling and tourism
extreme tours
SUVs and ATVs
A constant feeling of the life pulse, new experiences, and travel is the priority for the Explorer. The trips are not the goal for him. He enjoys the process itself.
#3. Sage
Features:
products that provide some information or experience
expertise, often many years of experience in the market
the brand is based on developments
quality is confirmed by certificates and other assessments
the brand encourages thinking and presents unique content
Examples of brands: Harvard, Intel, HP, CNN, The Oprah Winfrey Network, and The Wall Street Journal.
Ways to sell to the Sage: focus on gaining experience and recent studies.
Target ads at:
school, university and professional course teachers
experts in any areas where it is essential to improve skills
students, i.e., anyone who studies or regularly improves their professional skills
It will be effective to advertise:
educational institutions and training courses
consulting companies
information resources
software and computer hardware
Group 2: focus on freedom and risk
The main features of the group archetypes: achievement, spontaneity and striving to go beyond.
#1. Outlaw
Features:
middle-price category
the product is often revolutionary or intended for reconstruction or destruction (construction equipment)
emphasizes independence and unconventional thinking
the patriotic component of the company can often be traced
Examples of brands: Harley-Davidson, Jack Daniels, and Diesel.
Ways to sell to the Outlaw: focus on the originality of the product and the freedom it gives.
Target ads at:
teenagers
informal clothing lovers
fans of extreme sports
It will be effective to advertise:
men's brands (clothes, watches, etc.)
youth clothes, shoes and accessories
delivery services, catering establishments with vegetarian and even raw food menus
raw sweets
leather goods
quest rooms
motorcycles, buggies
tattoo and piercing studios
barbershops
#2. Hero
Features:
innovative product
performs high-quality complex work or is designed for it
helps the consumer show his strengths and capabilities
Examples of brands: Nike, FedEx, Nissan, and all superheroes.
Ways to sell to the Hero: challenge the consumer in advertising. Motivate him to purchase a product, as it will help him become stronger, more resilient, and get rid of fear.
Target ads at:
travellers
outdoor enthusiasts
extreme sports fans
followers of spiritual practices
It will be effective to advertise:
sports equipment
sportswear, shoes, and accessories
vehicles
household appliances
video games
This archetype is strong not only physically. It also develops spiritually. Danger and extreme are common concepts for the Hero as he especially enjoys overcoming difficulties.
#3. Magician
Features:
medium and high price range
tech products
emphasis on usability (clear interface, availability of changing settings)
the ability to feel the client's state
Examples of brands: Apple, Sony, Mastercard, TED.
Ways to sell to the Magician: focus on closing a complex issue using a purchased product or service. Tool accessibility is crucial.
Target ads at:
people with health problems
business people and entrepreneurs
The product or service shall solve the problem of the Magician, i.e., strengthen the immune system, help to cope with chronic insomnia, and cover business issues.
It will be effective to advertise:
household appliances
smart systems for premises
data collection and analytics tools
educational materials and courses
aesthetic and plastic surgery clinics
Group 3: focus on stability and control
The main features of the group archetypes: honesty, clarity of processes, order, and traditions.
#1. Creator
Features:
goods from the field of art or self-expression as a whole
often includes a "do-it-yourself" element (it saves money for the buyer) and a display of author's techniques
Examples of brands: LEGO, Adobe, Pinterest, and Disney.
Ways to sell to the Creator: provide the consumer with the tools to self-express.
Target ads at:
entrepreneurs
language and art lovers
creative people who regularly restock their self-expression tools (painters, sculptors)
It will be effective to advertise:
training courses
decorative cosmetics, clothes, and accessories
jewellery
interior and decor items
goods for creativity and handicraft
workshops, concerts, and master classes
This archetype will be most suitable for brands where there is a connection with art, creativity or handmade products.
#2. Ruler
Features:
premium segment
long (often lifetime) warranty
Examples of brands: Mercedes, Rolex, and Rolls-Royce.
Ways to sell to the Ruler: focus on the prestige and status the consumer might acquire along with purchasing a product or paying for a service.
Target ads at:
business people
real estate owners
frequent visitors to high-end restaurants, golf and country clubs
It will be effective to advertise: products associated with luxury and success. This archetype is also often chosen for creating a personal brand.
#3. Caregiver
Features:
focus on service
support
association with proper nutrition, insurance, healthcare or education
takes care of the customer or helps take care of others
Examples of brands: Johnson & Johnson, Pampers.
Ways to sell to the Caregiver: prompt assistance to the client in resolving his issue.
Target ads at:
everyone interested in the healthy lifestyle topic
parents
people attached to the home and loved ones
It will be effective to advertise:
insurance and legal services
medicine, pharmaceutical products
products for children and pregnant women
charitable foundations
repair things
Remember mobile operator ads: they often focus on connecting with family and friends.
Group 4: focus on belonging and community connection
The main features of the group archetypes: striving to merge with society, openness, and loyalty.
#1. Everyman
Features: low or average price range. The product is often intended for everyday use.
Examples of brands and personalities: Facebook, Levi's, GAP.
Ways to sell to the Everyman: talk about the availability of products or services for a consumer with any level of income and education.
Target ads at: those who seek social recognition. Everyman starts sorting garbage when everyone around him talks about environmental pollution as he wants to feel involved in society.
It will be effective to advertise:
moderately priced brands of clothes
diners, bakeries and small cafes
replicas or affordable counterparts of premium brands
mass market products
This is a universal archetype for a mass production company in almost any niche of the average price range.
#2. Lover
Features: average and high price range, helps to find friendship or love, is associated with romance and sexuality.
Examples of brands and personalities: Chanel, Victoria's Secret, Cornetto, Marilyn Monroe, Durex, and Godiva Chocolate.
Ways to sell to the Lover: offer products in terms of romantic atmosphere, attractiveness, and sensuality. Focus on the fact that the products should emphasize the buyer's individuality.
Target ads at: everyone except children.
It will be effective to advertise:
lingerie
intimate goods
cosmetics and perfumes
jewellery
SPA-salons
beauty salons
photo studios
hotels
vacation for two
#3. Jester
Features: goods at relatively low prices, recreation and entertainment category, new experiences.
Examples of brands: M&M's and Skittles.
Ways to sell to the Jester: offer experiences and joy in exchange for goods.
Target ads at: universal archetype. Remember to focus on humour, ease, and showing the benefits to the client (bright impressions) in ads.
It will be effective to advertise:
entertainment programs (bowling, amusement parks)
entertainment companies
producers of sweets
goods for children and teenagers
Ways to Identify Brand Archetype
There is an easy way to decide on the brand image at the start:
Choose 5-10 adjectives for each of the 12 archetypes that describe it best. Write down the adjectives on the cards and mix them thoroughly.
Choose 5-10 of them (depending on how many adjectives you wrote down for each archetype). The chosen cards most accurately convey the essence of the brand.
The cards "impulsive," "self-confident," and "cheeky" will indicate that the brand has many qualities of the Outlaw archetype. The characteristics "humorous" and "inventive" refer to the Jester archetype.
For example, three archetypes (Hero, Everyman, and Caring) correspond to Jon Snow's character. A complex (two- or three-level) image gives more space for creativity.
video caption