How To Learn A Language Quickly
It's easier than you thought when you have the right tools.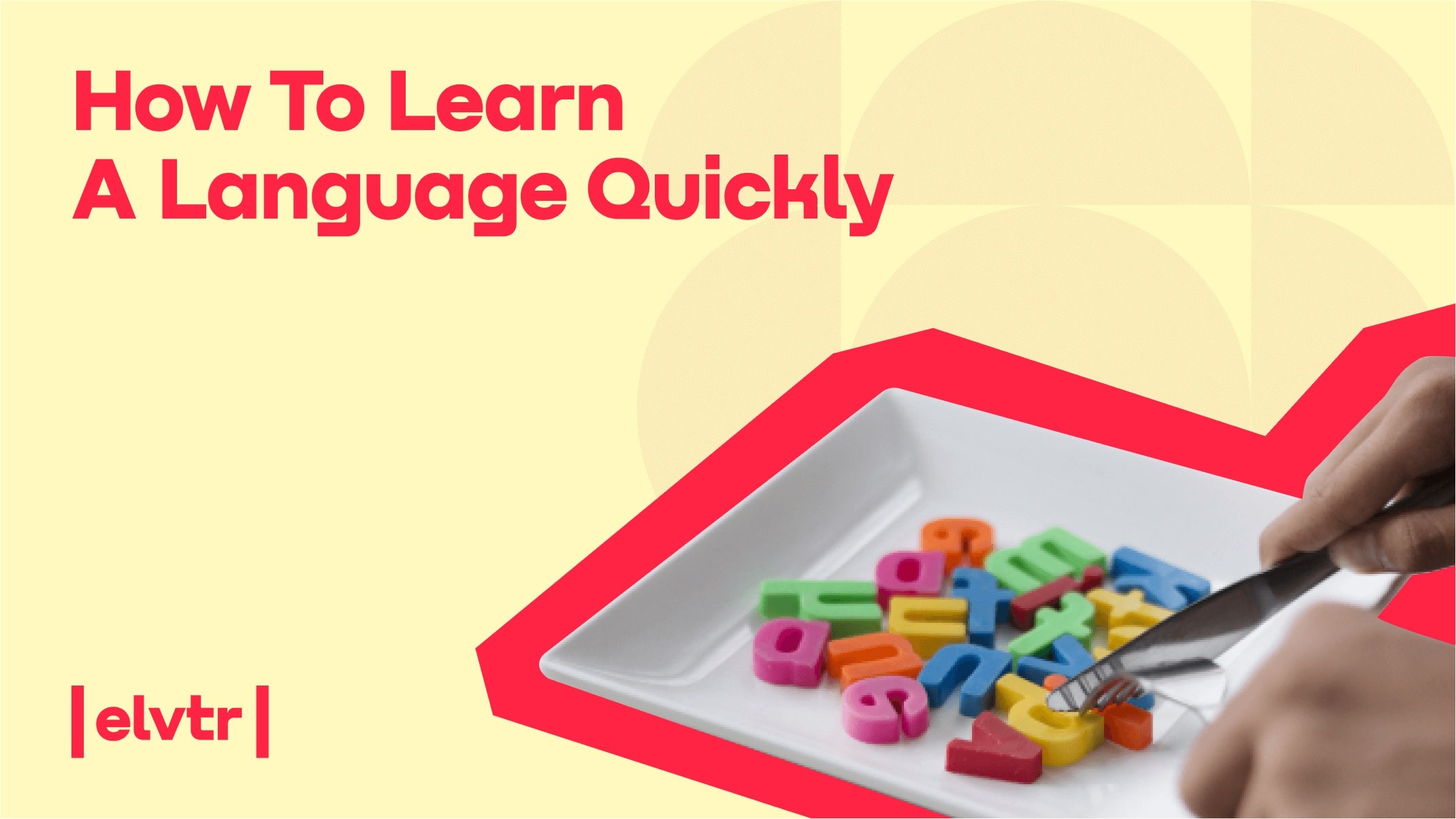 Nowadays, no need to explain how important it is to know at least one foreign language and how many perks it adds to work, studies, hobbies, travels, and personal life. However, the main reasons why people delay deepening their knowledge of different languages are the following:
lack of motivation
a belief that it is "expensive-long-difficult"
school classes imprinted in our heads that it is incredibly dull
Let`s prove those wrong together in this article.
Tips For Mastering New Language
Learning a foreign language can be a very organic, exciting and inspiring process, and bring you health benefits. Yes, health.
According to studies, learning a new language in adulthood can delay the onset of dementia and Alzheimer's disease by 4-5 years. That is significantly more than the capabilities of modern drugs.
Also, learning a foreign language improves knowledge of the native language, increases attentiveness and creativity, and stimulates logical and cognitive processes in the brain.
Benny Lewis, one of the most famous experts in language learning, is an imposing and inspiring person. He is a real polyglot; Benny learnt seven languages — including Spanish, German and even Mandarin. And each of them took him less than 1 year to master. Benny has travelled halfway around the world, gave speeches at TEDx; he also conducts seminars and has his own website "Learn a language in three months."
Benny has his methods and useful tips for how to learn a language fast and efficiently. The main of them is: when he starts to learn a language, he compiles a script of words and phrases to respond to simple queries from strangers. This example gives us the first 5 important studying tips:
#1. Learn The Right Words
Many people give up learning a foreign language because there are so many words to learn from scratch. But to form a working vocabulary, knowing all the words is unnecessary. In fact, with the right approach, 20% of your language learning effort will allow you to understand 80% of the material (according to the Pareto principle).
You can make yourself post-its or use special cards with words; there are even special programmes that form such cards, so you can carry them in your phone everywhere you go, for example Memrise or Membean. The main advantage of such programmes is that you don`t have to learn words in a particular order.
#2. Communicate Or At Least Speak Out Loud In A Foreign Language From Day One
It is really OK to make mistakes — you are just starting to learn the language. Talk to native speakers, translate texts aloud, and arrange to learn a language with someone you can communicate with daily.
Apps like Tandem or HelloTalk, where people can communicate with native speakers and other learners, might be handy in this case. That way, you won't have to worry about mispronouncing words or being unable to remember everything you've learnt when it's time to use your knowledge.
#3. Learn Useful Phrases First
Imagine you are studying Spanish, and suddenly you have to go to Spain. What will be needed first? Phrases that will help you navigate the city, order food or book a hotel room, meet the necessary people, buy what you want in a store, etc. You can use printed phrasebooks or use Rosetta Stone's Phrasebook for that.
#4. Tell About Yourself
When starting to learn a language, write a short text about yourself, translate it (by yourself or with a native speaker) and add details as you study. This is, actually, a great illustration of your progress level.
#5. Listen to the radio
Radio is an even more effective way to get used to the language and understand it faster than watching TV series in the original. This is because you listen to the spontaneous speech live as if you are communicating with the host. Benny recommends the TuneIn resource, which collects radio broadcasts worldwide.
Focus On Understanding The Meaning, And Not On Grammar
Canadian polyglot Steve Kaufman, who speaks twenty languages, uses the following scheme:
Reading
Paying attention to the context
Studying phrases, not individual words
Repetition of learnt phrases
Find Your Greatest Motivation
This point may seem quite obvious, but a clear understanding of why you need a foreign language is the key to successfully mastering it.
Surprisingly, many people start learning a language without any idea how and where they will use it. And in the end, which is not surprising, they drop out.
So, answer yourself — what will a new language give you? How will it improve your life?
Are you planning to move to another country?
Are you interested in a foreign culture and want to immerse yourself deeper by learning a language?
Do you want to have a conversation with locals without "beeping" or make an order in a cafe while travelling?
Do you need to learn a language to get a promotion or to speak to your potential business partner?
All these cases are a great motivation for learning a language.
Be Prepared To Spend At Least One Hour Per Day Studying
FSI research reported that if you spend 10 hours a day learning a language, you will be able to master it in 48-72 days (two or three months), depending on the difficulty of the chosen language. Spending 5 hours a day studying will take up to six months to acquire basic language skills.
Those people who can spend 1-2 hours a day on language learning will be able to demonstrate excellent results within a year. You just have to start right now.
Use The Unlimited Possibilities Of The Internet
The digital age has made learning enormously easier. You can choose a program or application to help you master a language. Some (like Beelingua or Duolingo stories) allow you to listen to the text first and then read it. After listening to the text for the first time, you find the key unclear words in the printed text and listen again. And then learn another unfamiliar vocabulary by rereading it quickly.
Other online resources (like Duolingo) actually give you daily lessons in an easy and fun form. In addition, some of them (like Italiki) directly connect you with a native speaker.
Stimulate the brain with interesting and relevant content. People learn better from life stories, authentic dialogues, and examples from the news than from textbook rules. Watch and listen to the series you are interested in on Netflix, and explore YouTube and TikTok videos in a language you are interested in.
Do Not Immediately Strive For The Ideal
Many beginners at the first stages cannot show the results they expect. They are shy to speak the chosen language or even ask the teacher questions because they are afraid to look stupid. As a result, learning simply ends before it even begins.
Allow yourself to make mistakes, fall a bit behind schedule, or just laugh at your errors, but never give up! And then everything will definitely work out.
Practice On Your Own Most Of The Time
Do not rely solely on a teacher or tutor. A qualified guide in language learning is great, but just taking classes with a teacher is not enough. Most of the time, you have to do it yourself — accept that and adjust.
Review the grammar rules occasionally, paying attention to typical mistakes made recently. And also, analyse specific words and phrases that you have recently learnt.
Regularly try writing and speaking a foreign language. When you talk and write, you look at grammar rules — you increase your attention and ability to perceive the subtleties of language more easily. And increased awareness produces the brain's ability to notice the patterns and sounds of a foreign language.
When Learning A New Word, Try To Use It Immediately In Communication
When you reach for the dictionary to look up a new word during a conversation, try to use it a few more times during this dialogue.
Research shows that the quality of memorisation increases significantly if you use a new word a minute after learning it, an hour, a day, during the week, and so on.
To Wrap It Up
Look for fun and satisfaction in what you do. Don't just study the textbooks — you'll quickly burn out and get bored.
Make language your personal tool to gain life experience, meet new people, and explore the world. Otherwise, you will face a long and unpleasant process that will most likely end with you forgetting everything you have learnt.
video caption