Graphic Designer Julian Weidenthaler: "Every project presents an opportunity to create something unique and impactful"
What it takes to become a successful Graphic Designer & the role AI plays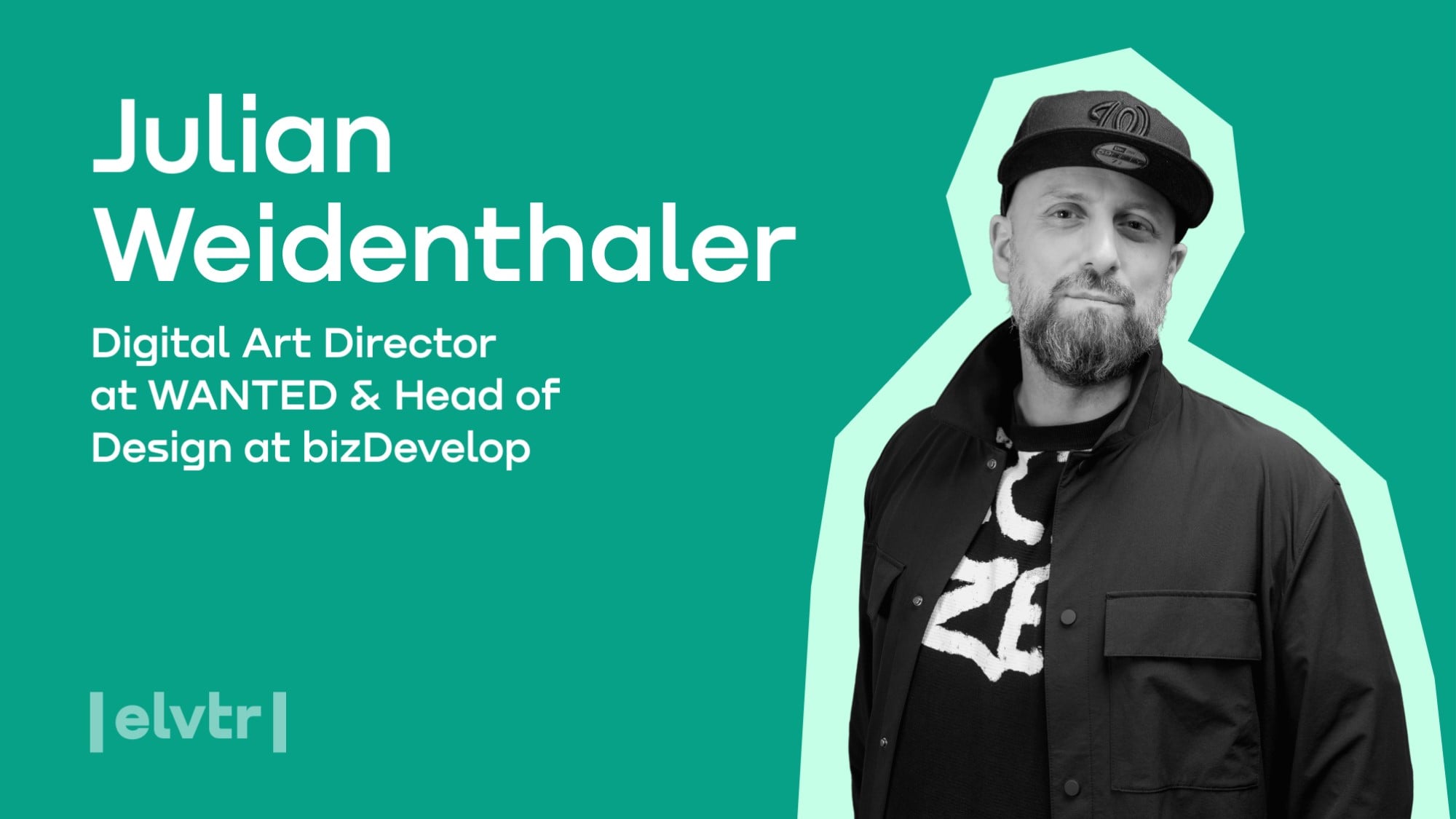 Step into a boundless world of creativity, where brushstrokes and pixels transform into masterpieces of visual communication. Julian, a trailblazer in graphic design, has partnered with us at ELVTR, taking his artistic prowess to new heights. From humble beginnings as a CD cover designer, Julian's passion for merging music and software sparked a fire within him. With degrees in "Time-based and Interactive Media" and "Visual Communication," he has mastered graphic design, illustration, photography, directing, UI/UX design, and web development.
Julian's ability to connect deeply with clients and understand their brand essence transcends borders, forging enduring relationships. Embracing simplicity and authenticity, he pushes the boundaries of design, showcasing the power of human creativity in an advancing technological era. Join the visual odyssey of Julian Weidenthaler and ELVTR, as they redefine graphic design with captivating designs and transcendent narratives. The course is starting on 24 July – you can sign up here.
What Does a Graphic Designer Do?
The precise tasks of a graphic designer may vary depending on their work environment and specialization. Whether it's working in an advertising agency or designing for a magazine, the core responsibility remains consistent: creating impactful visual communication materials. This includes designing print media such as brochures, flyers, web design, brand identities, image editing, and creating various graphics like illustrations, logos, and infographics.
What are The Essential Skills for Graphic Design Success?
In addition to the inherent creativity that comes with the profession, effective communication skills are essential for a graphic designer. While designers communicate visually through their work, they also need to effectively collaborate with clients and team members. A strong foundation and interest in software tools are advantageous, along with technical knowledge of printing techniques, color profiles, and file formats. Good time management is crucial since designers often juggle multiple projects simultaneously. Adaptability is another important trait, as staying updated with new trends, technologies, and skills is vital for success. Above all, problem-solving skills are invaluable in overcoming challenges and delivering visually stunning solutions to clients.
Is Graphic Design Your Calling?
If you're considering a career in graphic design, it's important to ask yourself a few key questions:
Do I have a passion for design and visual aesthetics?
Am I creative and able to develop original ideas?
Do I possess a keen eye for detail and a strong focus on visual appeal?
Am I willing to learn and improve my skills with commonly used graphic design software tools?
Can I work effectively with clients and team members?
Am I comfortable working with tight deadlines and time constraints?
Am I open to feedback and capable of adjusting my designs accordingly?
Do I have an interest in current design trends and the evolving technologies in the graphic design field?
Am I committed to continuous learning and expanding my skills?
How did you end up in Graphic Design?
My journey into graphic design began unexpectedly. I started by designing CD covers for my band at the age of 16, driven by my fascination with software. As my skills grew, I expanded into creating flyers, posters, and eventually websites for other bands. Although my music career didn't take off, I sought a creative alternative and decided to pursue graphic design, even though I initially had no knowledge or exposure to the field.
To further my education in graphic design, I pursued a Bachelor's degree in "Time-based and Interactive Media" at Art University in Linz, where I discovered my passion for graphic design. I gained practical experience by working as a freelance graphic designer in various agencies. Following my Bachelor's degree, I embarked on a Master's degree in "Visual Communication" and co-founded my own design studio, MOOI Design, during my studies. My projects, including the UNI:VERSE study guide for the University of Art in Linz, have received recognition and accolades, reflecting my talent and dedication to the craft.
How did you find your unique style?
My design philosophy revolves around simplicity, authenticity, strategy, credibility, cultural focus, customer orientation, emotional connection, and results-oriented design. I believe in the power of technology to enhance creativity and the importance of delivering effective design solutions aligned with clients' goals.
What Tools and Software do you use for your Creative Process?
Over the years, I have explored various design tools and software, but currently, I primarily work with Adobe Creative Suite, which optimizes the design process working with a team. As a multidisciplinary designer involved in photography, directing, UI/UX design, and web development, I also utilize other software specific to each field.
How do you develop Designs?
When it comes to developing a new design or visual identity, I follow a structured approach tailored to each project. This includes understanding the client's needs and goals, conducting research and gathering inspiration, conceptualizing multiple ideas, collaborating with the team through brainstorming sessions, refining and presenting design concepts to the client, incorporating feedback, and ultimately preparing the final artwork for print or digital distribution.
What are the most crucial skills to become a good Graphic Designer?
Essential skills for graphic designers include creativity, effective communication, understanding clients' needs, attention to detail, and a continuous thirst for learning. While it's a nice add on to create visually stunning designs that win awards, designers should never lose sight of the client's objectives and their ability to help them achieve their desired outcomes.
How do you get inspired?
I find inspiration in the minimalist and to some degree also in brutalist design trends, appreciating their focus on simplicity and essential elements but also breaking rules in the brutalist movement. Also from the world of art, particularly interactive media and time-based art, which often precede design trends. While I keep an eye on current design trends through multiple feeds from various design studios and agencies, I believe in adapting trends selectively, as not all trends are suitable for every industry or client. Social media platforms such as Instagram, Dribbble, and Pinterest are also valuable sources of inspiration.
What's the Importance of Critique?
Receiving feedback and handling criticism are integral parts of a designer's growth. Effective communication and open dialogue with clients and collaborators play a vital role in addressing feedback and refining designs. That's why I actively seek feedback not only from my team but also from clients, as it enables me to continuously improve my work and deliver designs that exceed expectations.
What are some of your Future Endeavors?
While I don't have a specific project or collaboration in mind, I thrive on tackling complex projects that challenge his skills and creativity. Every project presents an opportunity to create something unique and impactful, and I'm excited to continue exploring the boundaries of graphic design.
What Advice do you have for aspiring Graphic Designers?
Most importantly: Gain practical experience by working on real projects. Build a strong portfolio that showcases your skills and creativity. Invest time in expanding your skills and staying up to date with industry-standard software tools. Another thing, that's always helpful, is to network with professionals in the field to broaden your connections and opportunities. And above all, enjoy the journey and have fun expressing your creativity through design.
What's The Influence of AI when Maintaining Creativity?
When it comes to the influence of AI on the graphic design profession, I'm actually quite optimistic. While AI may impact designers who work primarily with templates and create "simple" designs, I believe that more complex projects that require intricate design thinking and creativity will remain in the hands of human designers. AI can assist designers by providing layout suggestions and streamlining certain tasks, but the unique creative intuition, originality, and artistic touch brought by human designers will continue to play a crucial role in creating exceptional and distinctive designs.
Julian's career exemplifies the passion, dedication, and continuous learning that define a successful graphic designer. Through his artistic journey, he inspires others to explore their creative potential and embrace the ever-evolving world of graphic design. As a multidisciplinary designer, Julian has not only honed his skills but also developed a unique perspective that sets him apart in the industry. His commitment to simplicity, authenticity, and results-driven design ensures that each project he undertakes leaves a lasting impact.
As the graphic design landscape continues to evolve, Julian remains at the forefront, embracing new technologies and trends while staying true to his artistic intuition. With a deep understanding of clients' needs and an unwavering dedication to excellence, Julian continues to push the boundaries of graphic design, leaving an indelible mark on the visual world.
video caption