Five Female CEOs with the Highest Salary in the World
Who they are and how much they earn.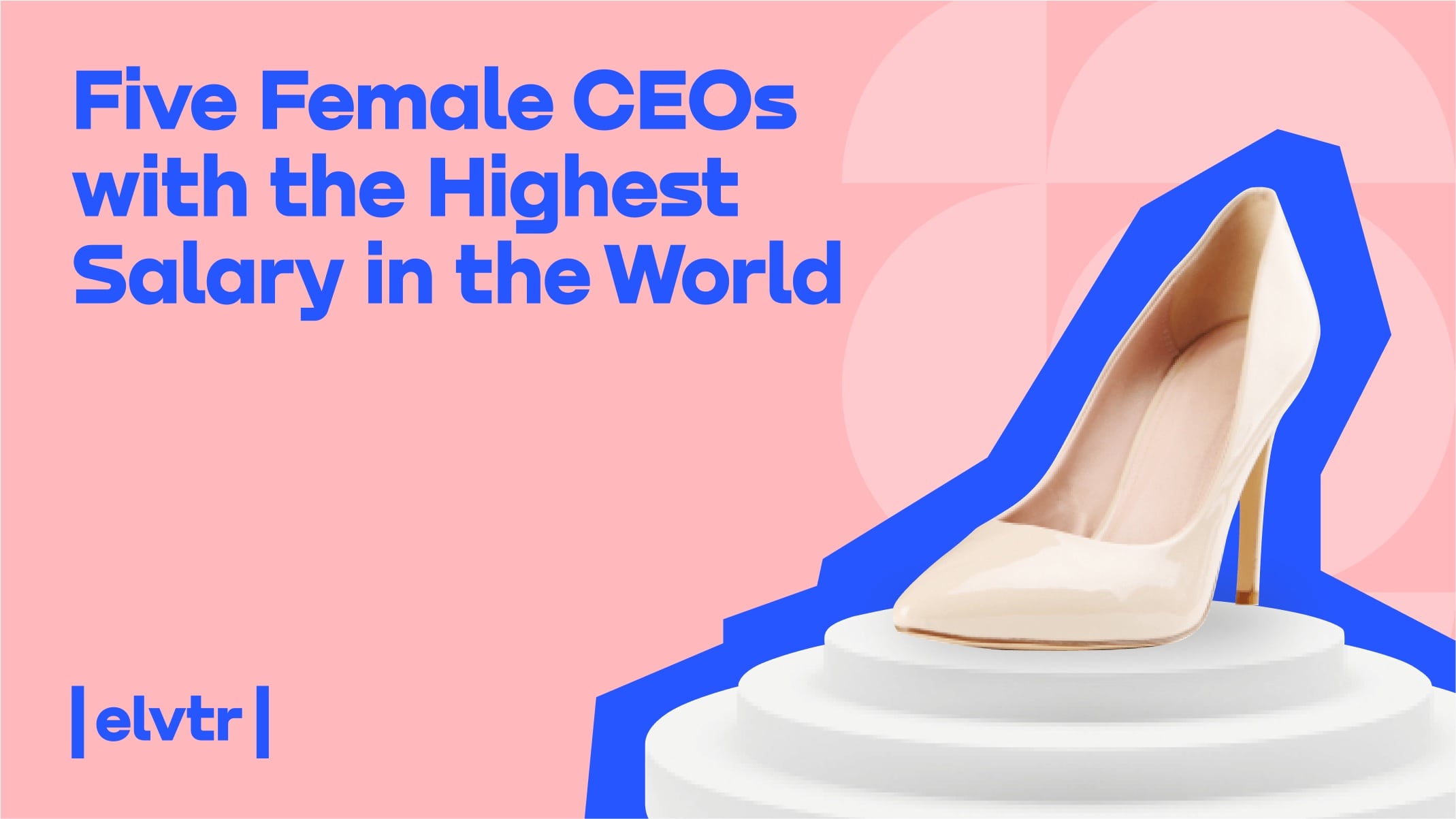 In 2022, women run 44 organisations from the Fortune 500 list. This is three more companies than in 2021. However, this number is still insignificant. There is still a difference in wages between men and women. In 2021, women received 81 cents for every dollar men earned, according to a Payscale report.
Despite these statistics, women continue to prove their importance in the business world by holding senior positions in leading companies. Every year gender-based discrimination is more and more considered bad manners.
​In this article, we collected stories of 5 women leaders with the highest salaries in the world. We will try to figure out what kind of education and mindset allows them to earn tens of millions a year.
By the way, the "Women in Leadership" course will soon start at ELVTR. Noel Silver, Global Partner, AI & ANALYTICS at IBM will conduct it.
1. Lisa Su, Advanced Micro Devices
Lisa Su is the highest-paid female CEO in the world. In 2014, she was appointed CEO of AMD, the largest manufacturer of integrated electronics.
Perseverance, determination, and an innovative approach to work helped Lisa become CEO.
Don't be afraid to change the industry you work in and create new standards.
How it all began
▫️ Lisa Su was born in Taiwan. She moved with her family to New York when she was a child. Her father was a statistician, and her mother was an accountant.
▫️ At school, Lisa showed great interest in the exact sciences. She wanted to become an engineer. When she was 10, assembling and disassembling her brother's radio-controlled cars was one of her favourite hobbies.
▫️ In 1994, Lisa graduated from the Massachusetts Institute of Technology and earned a Ph.D. in electrical sciences.
▫️ Su started her career at the Texas Instruments tech company. A year later, she moved to IBM, where she grew from an ordinary researcher to the Development Center vice president. Lisa worked at IBM for 13 years in total.
Shares Skyrocketed by 1300%: How Lisa Managed to Prevent the Bankruptcy of AMD
Lisa Su joined AMD in 2012 as Senior Vice President. She supervised the company's global business unit and was developing chips for the Playstation 4 and Xbox One consoles.
In 2014, AMD was on the verge of bankruptcy. There were several reasons for this: a decline in sales of PCs equipped with AMD processors, tough competition with Intel, and a drop in revenues from gaming consoles. During this period, Su was appointed CEO, and the first thing she did was determine the key vector of the company's development.
"For a tech business, it's important to decide what you're good at," Su says. "It is important to determine the DNA of the company and improve it, taking into account the market's needs."
To bring AMD out of the crisis, Lisa decided to focus on new-generation technologies: cloud computing, data centres, artificial intelligence, and games.
Create great products, expand customer relationships, and simplify everything we do.
These were the three main goals that Su announced during the first general meeting as CEO.
A clear technology roadmap and the choice of the right markets helped attract new customers and pull the company out of the crisis. Lisa led the development of chips for a new range of microprocessors, accelerated processing units (APUs), and graphics chips. AMD Ryzen x64/x86 microprocessor occupied 11% of the market right away.
Already in the middle of 2020, AMD shares skyrocketed by 1300%. Their cost has increased by 25 times as compared with the crisis of 2014.
Lisa believes that the company culture should be based on learning. Only in this case will it develop. Su asks her team to give 5% more every quarter. She says that it was the "a little better next time" approach that brought AMD back from the brink to profitability.
Lisa continues to run the company nowadays. As of December 2022, AMD has a market capitalization of $107.11 billion.
2. Mary Teresa Barra, General Motors
​It would be hard to find someone who knows General Motors better than Mary Barra. She joined the company as a trainee and stayed with the company for 42 years. Mary was appointed CEO of GM in 2014. She was the first woman in history to lead an automobile manufacturer.
How it all began
My parents taught my brother and me that it is crucial to work hard to achieve something. They were right./p>
▫️ Mary was born in Royal Oak, Michigan. Her parents were Finnish. Her father worked in a car factory, and her mother was a housewife.
▫️ After high school, Barra entered the General Motors Institute, where she studied electrical engineering. Mary had a strong desire to build a career in the automotive industry.
▫️ She got a job at GM as a trainee on the factory floor as a student. The money she earned Mary used to pay for tuition.
How General Motors Developed Under the Leadership of Mary Barra
After a traineeship, Mary was promoted to engineer and administrator. Seeing perspective in her as a young expert, the company paid for her training in business administration at Stanford.
Mary's career skyrocketed. In 2008, she was appointed Vice President of global mechanical engineering. Later she was appointed Vice President of Global HR and Vice President of Global Product Development.
Barra became GM CEO in 2014. However, already during the first year, she had to face great difficulties. 275 people were injured, and 124 were killed due to defective ignition switches. GM became the centre of one of the biggest scandals in the US.
The Senate began an investigation. Mary was called to testify several times. GM paid compensation to the families of victims and injured. Barra fired 15 employees, including eight executives who failed to detect and solve problems promptly.
GM's reputation was badly damaged. To restore it, Mary decided to focus on new technologies. In 2016, the company designed the first electric vehicle with a range of 200 miles (Chevy Bolt EV). At that time, this was the best result among compact electric cars.
At the same time, GM started producing unmanned vehicles. The company managed to design the Cruise Origin and Chevrolet Bolt cars together with the Cruise startup. They also launched the "robot taxi" service in San Francisco in 2022. It is planned that by 2030 it will bring the concern up to $50 billion a year.
The driver can sit inside the Chevrolet Bolt for safety. Cruise Origin is a new-generation taxi drone. It does not have a steering wheel, pedals, and driver's seat (human control is not provided at all).
I see things not as they are, but as they should be.
In October 2021, GM announced new goals, i.e., to double revenue by 2030 and surpass Tesla in sales. In 2022, Barra announced plans to invest $7 billion in an electric pickup and battery production plant. By 2025, the company plans to release 30 new models of electric cars.
GM employees say that Mary is a fair and emotionally stable leader. She prefers to solve problems quickly, acts more than talk, trusts, and gives the team the freedom to choose.
When Mary was in charge of the HR department, one of her first decisions was to replace the 10-page dress code with the "dress appropriately" rule. At the same time, Barra explained that the absence of regulations allows employees to develop.
3. Phebe Novakovic, General Dynamics
Phebe Novakovic is one of the few women leaders in the military-industrial sector. Since 2013, she has been Head of the Board and CEO of defence giant General Dynamics.
How it all began
▫️ Phebe was born in Virginia, USA. Her father came to the United States from Serbia at 17 with only $50 in his pocket. However, eventually, he became a military intelligence officer. He was the one who influenced Phebe's decision to work for the government and then for one of the leading defence enterprises.
▫️ Novakovic studied the human sciences after high school. Later, after a 9-year disruption of education, she graduated from the University of Pennsylvania while pregnant with her third child.
▫️ After college, Phebe joined a small company where she analyzed weapons systems. In 1983 she joined the CIA.
▫️ From 1997 to 2001, Phebe worked as an assistant and then as deputy US Secretary of Defense of the United States, where she controlled the defence and intelligence budgets.
▫️ "Phoebe has always been very patriotic. She had a more conservative and Republican upbringing than her peers," told Lind, a close friend of Novakovic, to Fortune Magazine.
"You have to ask yourself if you're doing the right thing." This is Phebe Novakovic's management style.
"There is no need to rush the process. No one succeeds overnight," – is advice Phebe gave to students in her interview.
Novakovic worked at GD for 12 years before becoming CEO. At that time, the company was in a crisis as in 2012 it received its first major loss in the last 20 years in the amount of $ 332 million. This happened due to:
drop in sales of combat and information technologies
expensive purchases of the former management
cuts in state defence spending
Phebe consolidated company operations and cut headquarters staff from 190 to 140 employees. According to S&P Capital IQ, this increased cash flow profitability from 12% in 2012 to 14.6% in 2015.
Following new defence projects helped to get out of the crisis as well:
$13 billion contract for the sale of armoured vehicles to Saudi Arabia
$17.6 billion 10-year contract to construct submarines for the US Navy
acquisition of CSRA, a leading IT services provider for the US Department of Defense and intelligence services
General Dynamics continues to strengthen its position thanks to various IT products in the aerospace and defence markets. In 2021, the company reported sales of $38.5 billion, which is 1.4% more if compared to 2020. Net profit for the year was $3.3 billion compared to $3.2 billion in 2020.
Phebe is still running General Dynamics. When asked how to become an influential leader in an interview, she replied:
You have to constantly ask yourself: "Am I doing the right thing? " Otherwise, you might fail to notice potential errors.
According to Phebe, the leader shall constantly "look around the corner," questioning his decisions and strategy.
Colleagues and partners call Novakovic determined, witty, and straightforward.
"She tells you exactly what she expects from you. If you meet her expectations, she openly expresses gratitude. Though, if you don't, she will directly tell you about it," says Mike Petters, CEO of Huntington Ingalls, which partners with GD.
Phebe avoids the press and rarely gives interviews. She probably had this habit since her work in the CIA.
4. Ana Botin, Banco Santander
Ana Patricia Botin is the Chairman of the Board of Directors of the banking group Santander, which has offices in the Eurozone, the UK, several Latin American countries, and the USA.
How it all began
▫️ Ana was born in the Spanish city of Santander. Her father was the CEO of the Santander bank, and her mother founded one of the largest music schools in Spain.
▫️ Since childhood, her father prepared Ana for the fact that one day she would replace him in his position. Her parents provided her with the best education: schools in Spain, France, Austria, and the UK, five languages, and then Harvard.
▫️ After graduation, Botin worked for 7 years on the trading floor of JP Morgan Bank (USA), then returned to Spain and joined Santander.
▫️ Ana is a member of the Board of Directors of The Coca-Cola Company. She is also a member of the Trade and Investment Board of the UK Department of the Economy, and a business ambassador for the British government.
Bonuses for New Customers and "Breakthrough" for Startups: How Ana Saved a British Bank and Led the Santander Group
Ana joined the Santander Group in 1988 as a debt trader. However, already in 1992, she was appointed Senior Vice President. For the next six years, she led the expansion of the bank in Latin America.
In 1999, Botin took a break from banking and founded the direct investment fund Suala Capital and the web consulting company Razona. Ana described this period as one of the most useful in her career. Such an experience allowed Botin to look into the world of startups and form her future banking strategy, which is based on new technologies.
In 2002, Razona was bought out, Botin returned to banking and became the CEO of Santander Group UK, which was going through a rough time then. Limited product range and an unfavourable economic environment were the reasons for this. JD Power & Associates customer satisfaction survey ranked Santander as the worst UK bank in 2011.
Botin was aware of the challenge she faced. She immediately began to expand the client base and reform the bank's management, replacing at least ⅔ of the 120 managers.
Under the leadership of Botin, the bank started paying a bonus per cent to customers after the first year of using the account. To promote this program, Ana launched an advertising campaign featuring British athletes. As a result, 2.7 million new accounts were opened by 2014.
Support of startups was Botin's most significant contribution while working in the UK. Ana launches the "Breakthrough" program, i.e., a $392 million fund. The main goal was to help small businesses move into the middle segment. This strategy also included trade missions in New York and Brazil, a program to help companies recruit talented employees from universities.
In 2014, Ana was appointed as the Santander Group's CEO by the shareholders' decision. She took the position after her father's death and became the fourth head of the bank in the family. Botins controlled the work of Santander since the beginning of the 20th century.
"Everything we do, wherever we work, should be simple and honest. These two words define the way our bank should be," said Ana at one of the first meetings of Santander management.
The purchase of the bankrupt Banco Popular (BP) in 2017 for just €1(!) was among Botin's high-profile decisions. Santander financed the bank's capital and reserves by spending €7 billion. The largest bank in Spain in terms of lending and assets was created with 17 million customers as a result of this.
Employees admit that Ana as a leader, differs from her father. She doesn't insist on being called "el president." Ana holds meetings in the Madrid office of the bank and not in the luxurious Ciudad Grupo Santander complex her father created.
Ana considers herself a feminist and says women need more space in a world that men continue to rule:
We have set ourselves the goal of having 30% women in leadership positions on the board of directors of Banco Santander by 2025. Discrimination still exists, and women need our help.
According to Botin, education, insistence, and self-demanding helped her get to the top. Every day she wakes up at 05:30 and goes to bed at 22:00. Although she was prepared for the position of head of Santander since childhood, Ana repeats that she achieved everything herself all the time.
5. Emma Walmsley, GlaxoSmithKline
Emma Walmsley is the first woman to lead a major pharmaceutical company.
"I'm proud to lead GSK as we combine science, technology, and talent with being ahead of disease together," Emma's Linkedin page says.
How it all began
▫️ Emma was born in the UK into a family of vice admiral.
▫️ She graduated from Oxford, where she studied foreign languages.
▫️ Walmsley worked 17 years at L'Oreal and held various positions in general management and marketing departments. For the last three years, she supervised L'Oréal Paris, Maybelline, and Garnier brands in China.
Fired More Than 40% of Top Managers: How Emma's HR Strategy Changed GlaxoSmithKline
Emma joined GlaxoSmithKline in 2010 as President of the European division of Consumer Healthcare (a manufacturer of consumer health products). A year later, she headed the global division of Consumer Healthcare Worldwide.
In 2014, a joint business for the production of non-prescription medicines was created in cooperation with the Swiss pharmaceutical company Novartis under the leadership of Walmsley. Sales increased by 38%.
"Consumer was a sleepy little organization with little income. However, once Walmsley came appeared there, the company became the centre of attention!" - one of the former GSK top managers told Fortune magazine.
Emma's accomplishments and leadership style impressed the Board of Directors. Walmsley was appointed the new CEO in 2017. It was an extremely controversial and brave decision that investors did not like:
– "She doesn't even have a scientific degree!"
– "And she's a woman!"
Emma had to face many challenges. However, the main challenge she had to face was the high costs of research in the pharmaceuticals and vaccines (€ 3.85 billion annually), which did not bring results. Walmsley closed 30 such research programs.
In addition, Emma led GSK's global restructuring program. Due to this, the company saved $500 million a year. The company invested money in the development of new products.
Then Walmsley purchased the biopharmaceutical company TESARO (USA), which specializes in oncology, for $5.1 billion. This deal enhanced GSK Pharma's performance and helped it become competitive in the field of oncology.
From the first day, Walmsley started implementing a complex HR strategy. She fired 40% of top managers to attract new talent to GSK.
Emma attracted several famous personalities to the company. For example, Luke Miels, who left his leadership position at AstraZeneca for the sake of GSK, and Karenn Terrell, CEO of Walmart (now GSK Chief Digital Officer). After that, investors changed their attitude toward Walmsley.
Thanks to Emma, GSK has become a global biopharmaceutical company that develops medications and vaccines against genetic, immune, oncological, and other diseases.
Employees consider Walmsley to be a determined, courageous leader who is not afraid to invest in ambitious projects, makes difficult decisions, and is constantly looking for ways to develop the company.
video caption