Former Google and Meta Executive Emmanuel Dollé: "Don't Confuse Micromanagement With Attention To Detail"
Emmanuel Dollé on the entrepreneurial spirit, the crisis in the tech sector and the skill set business leaders need to have.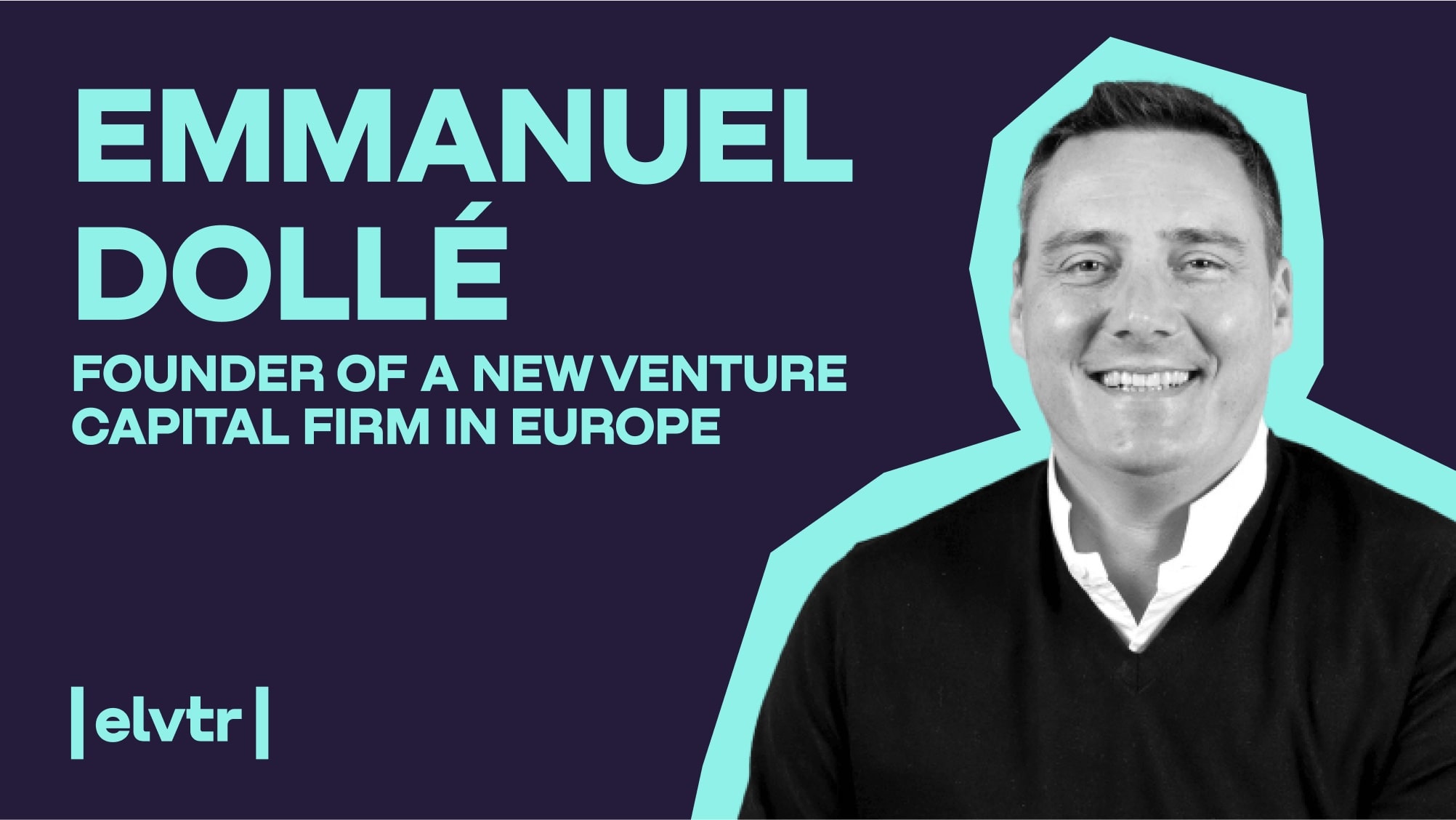 Few executives can boast a career that includes stints at Google, Meta (Facebook) and Renault. Through a series of senior roles at Google, Emmanuel Dollé has become an expert on leading sales and marketing teams at a major tech company. At Meta, he helped the firm redefine its sales operations in EMEA. And yet, his career started in a completely different sector: he spent 11 years with Renault, among other things helping the firm to launch the Mégane range globally.
Emmanuel sat for a chat with ELVTR to explain the basics of executive leadership, a topic he will thoroughly explore in his course this spring. He also shared his thoughts on the impact of the pandemic and the current crisis on the tech sector. Having recently co-founded a venture capital firm, he shared his views on entrepreneurship and revealed which business leaders have inspired him.
What is the role of the executive in an era where AI will be making the crucial decisions?
I think it remains unchanged. People sometimes overestimate the impact of technology. Obviously, technology helps make optimised decisions. But it remains a tool, and the role of executive directors remains important.
The human leader is the one who's being accountable and in charge of the management and the strategic direction of the organisation.
The tech sector is going through a turbulent period. What has your experience in the sector taught you about leadership in a time of crisis?
There are two crucial things about good leadership in a time of crisis, but also growth. What is important is authenticity, so being yourself in the way you lead an organisation or people. That involves listening skills too.
Your ability to make the right decisions in a timely manner with clear communication so that people (your board of directors, employees, customers, even regulators) understand your decision is crucial.
It's also about sticking to your long-term vision, and the way you execute in the short term. All that remains the same in a time of crisis. But some skills are even more important in a time of crisis, notably timely decision-making and clear communications.
Take for example some of the decisions taken recently by major US tech companies, notably layoffs. Your stakeholders, employees, investors, regulators, the media, and perhaps more importantly your users, need to understand why you had to make these decisions.
The second thing is a balance between a long-term vision and short-term execution. If you have the right vision, there's no reason to change it. So you need to stick to it and re-explain why it's important.
What you need to gain is some flexibility and adaptability in the way you execute in the short term. There may be more uncertainty and additional constraints from a financial perspective.
What should matter more for an executive, shareholder value or their long-term vision?
One does not exclude the other. Take shareholder value. If you are the shareholder, you have invested your money in a company for multiple reasons, probably for return on investment and / or because you believe in its mission. But at the end of the day, it's because you believe in the company. If not, you wouldn't invest.
What is important for the executive director is to clearly articulate the purpose of their company to every stakeholder, including shareholders. So you need alignment between what you want for your company and why shareholders should invest with you.
To give you a good example, when Google went public in 2004, the founders, Larry Page and Sergey Brin, wrote a letter to the investors explaining the purpose of the company. They explained what was important to them, and the issues on which they would never compromise. I think there was also something about the mission of the company and that this would always prevail over short-term financial results.
They made all that information available in the public domain. So this letter was public and shared with the employees of Google. And that played a big part in the way the company was run. So clear communication and transparency are absolutely fundamental.
Since you mentioned layoffs in the tech sector, is that a temporary thing? How will it affect the tech sector?
I don't know if it's a temporary thing or not. Most of these companies were growth-driven. So if you look at the "street", bankers for example, they're looking at the quarterly results of the company: year-on-year growth of revenue. So the leaders of these companies were looking at gross revenue, while maintaining a good EBITDA, i.e. profitability.
One consequence has been that as businesses were expanding, revenue growth was also linked to growth in headcount. It wasn't unusual to see their teams increase by double digit numbers every year. Now that the financial situation is more complex, companies have realised that they overhired and are making adjustments.
One long-term change is that investors will expect these big tech companies to be a bit more cautious and align their hiring strategy with market fundamentals. The focus on maintaining a good EBITDA will be crucial and as investment in human capital is a big part of the costs that these companies have, this will remain an issue.
Has the pandemic exposed the limits of digital technology, as people are hungry for more offline experiences?
I think it's more complex than that. It's not one against the other. If you look at what happened during the pandemic, there was an increase in online services, e.g. time spent on Netflix increased a lot, as well as goods bought online.
Companies like Amazon and Google, particularly its shopping service, were expanding. So we have something of a new balance.
But it's not a shift from online to offline or vice versa, but a multichannel experience where offline and online work together.
How can mid-level and senior leaders avoid the trap of micromanagement?
People should not confuse micromanagement with attention to detail. It's not because you're not micromanaging that you must not pay attention to detail. There is a popular saying that the devil is in the details.
Take companies that have failed in the past. In most cases, if you interviewed some of the employees, they would tell you that the decisions the company took were plainly wrong. So you must pay attention to the details.
Micromanagement goes back to something that we discussed a little bit earlier: accountability, which comes with empowerment. If you want to avoid micromanaging, you need to create a culture in your company where people feel able to make decisions and do the right thing for their jobs, the company and their customers.
So it comes back to employees. The most important decisions you're making as a leader are about hiring the right people. And if you want to avoid micromanagement, the way to train your managers is important.
But more fundamentally, it comes back to the hiring strategy you have. If you have the right people on board, things come quite naturally, and people will do the right thing.
Can business leaders learn anything from leaders in other sectors, e.g. sports, art or the military?
It is not sports versus business. I think what people need to look at is what is common between business management and management in these areas. And that's the fact that it's a human journey.
When you are coaching a team of football players, they are all skilled individuals who know their stuff. But what makes the team successful is whether people work together – the human factor. So there are stories that you can get from sports or other areas and learn lessons relevant to business.
But you need to pick what is relevant for you, depending on the stage that you're going through, crisis or growth. Is it a period when you need to make decisions for the long run or focus on short-term results? So you need to pick the best benchmark, depending on the stage you are at.
Are there any specific leaders that you look up to?
We talked earlier about purpose and mission. Someone who is very influential in this regard is Simon Sinek, the American author. He has a theory that we're going to discuss in the course: starting with the why, rather than the how. I think that's really important for an organisation and a leader.
Another leader, even if he is a little bit controversial, is Peter Thiel, co-founder of PayPal. We are going to discuss his book Zero to One during the course. It's about disrupting an industry and why you need to be a big thinker, rather than optimising something that already exists.
I've always been impressed by some of the speeches Barack Obama has made. He was a great leader in terms of communication.
What would you advise an aspiring executive to study?
These days people tend to underestimate the basic skill set you must have and overestimate the leadership skills. People really need to think about what is core, and what comes on top of it. So what is good and what is excellent.
If you want to be an executive director, the right skills include your ability to conduct financial analysis, understanding what financial health means for a company.
But what makes the difference between "break it" and "make it" is indeed the leadership skills and the way you drive people: your board of directors, investors, employees, customers.
And from that perspective, it's about understanding other human beings and bringing them with you. So every subject area matters, from psychology to literature – everything that touches the human soul.
You are working with a lot of startups. What makes an entrepreneur stand out, the vision or the execution?
To me, what makes a difference is the way you execute. You need to have an idea when you found a company, a vision and a mission.
But at the end of the day, it's about the way you execute. There is strategy on one hand and execution on the other one. I always say that execution is 95% of the success.
Is entrepreneurship an inherent skill or something that can be taught?
It's a mindset, a way you think about risk. If you are risk-averse, even if you have the right skills and can be a good leader, you are probably not an entrepreneur.
When it comes to being an entrepreneur and founding something from scratch, being able to take risks is paramount.
It doesn't mean that you have to be crazy. You have to accept a certain amount of risk, and judge what's the right balance in terms of the time and resources you allocate against that risk – that's what makes a good entrepreneur.
video caption