9 Important Instagram Trends and Predictions to Watch in 2023
DIY Clothes, Participatory Global Eats, Financial Literacy, and Political Activity.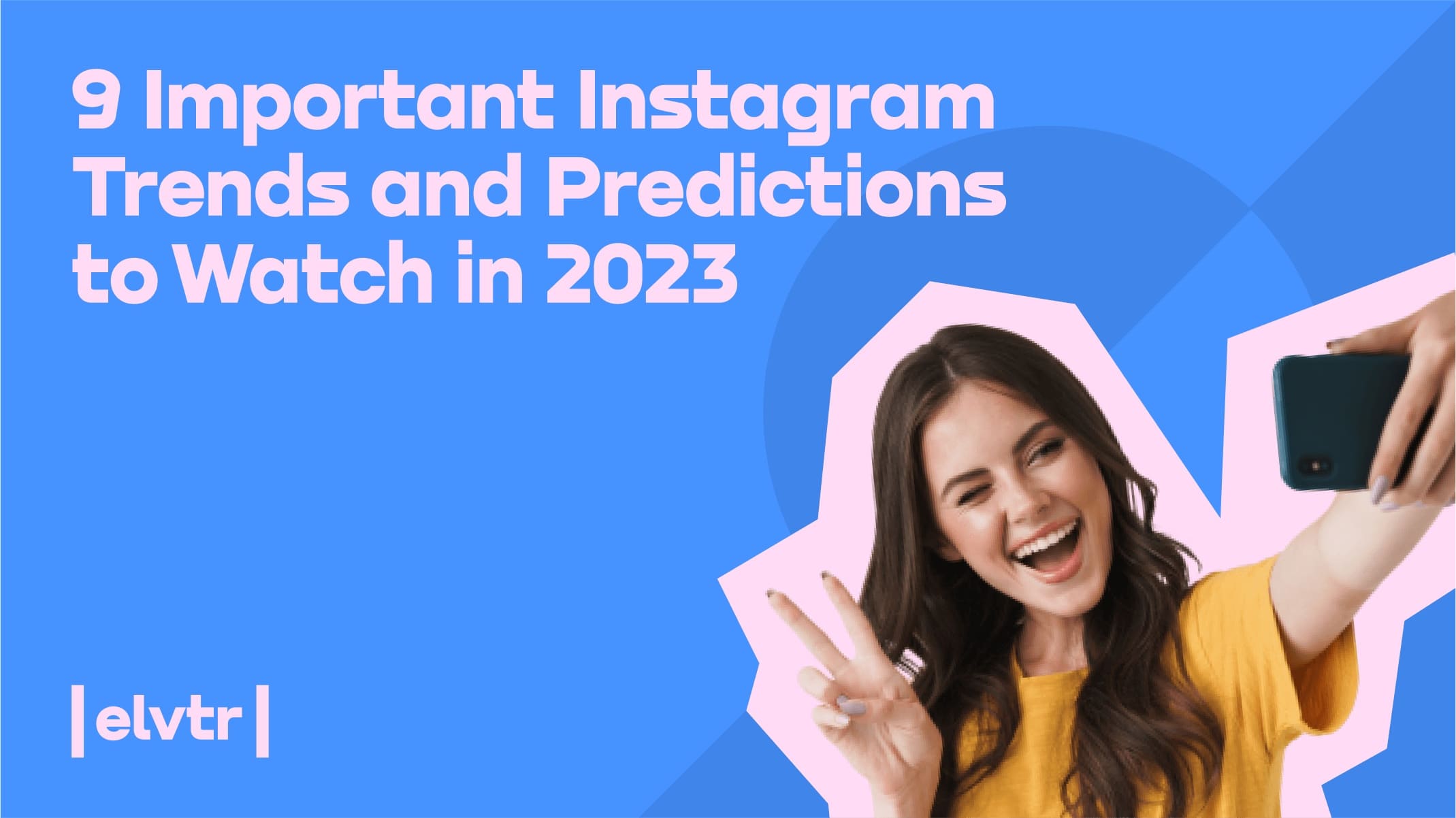 The time has arrived! A trend forecasting WGSN company together with Instagram conducted a Gen Z survey in the US and released a report on social media trends in 2023. The respondents were 1,200 social media users aged 16–24. In total, Instagram predicted nine social media trends that young people will follow next year. We have selected the most interesting findings.
Whether you are an Instagram creator or a trendsetter, knowing manifesting trends is pivotal to gain the edge over your competitors on social media.
#1. Recycling, Sustainability & Conscious Consumption
It's time to get thrifty! In 2023, Instagrammers will become more conscious about climate change and the impact of the fashion industry on the environment. The study showed that more than half of Gen Z respondents said they are prone to buy sustainable clothing or start sewing their own clothing. Over the next year, we might expect to witness many Instagram influencers turning to the sewing machine. Users will start sharing their DIY fashion solutions and encourage their followers to give upcycling fashion a try.
Additionally, young consumers are not immune to inflation and surging prices. Therefore, their plan for this year is to save on clothing. More than a quarter of shoppers said they would rather refuse to buy new clothes, shoes, and accessories and save their budget.
#2. Civic Stance and Political Activity
Gen Z is the next generation of activists, and this year the number of young creators using Instagram as a platform for activism and advocacy will be only growing. They support causes they truly care about, and encourage others Instagrammers to take a firm stand on many social issues. In 2023, they will continue to speak up about political and social matters and make donations to help those who are in need.
Gen Z is particularly interested in politics these days, and pushes their voice to make sure that their position is counted by the officials. Respondents believe that their countries need young politicians to drive a change.
#3. Protecting the Rights of People with Disabilities
Diversity is one of the most powerful contemporary movements in pop and digital culture. Plus-size models, 50+ fashion bloggers, and influencers with disabilities have become more visible. Nowadays, 3 out of 4 surveyed Instagrammers follow an influencer with a disability. And as of today, there are about 15% of them in the world! More of the next generation is expected to interact with bloggers who advocate for people with mental or physical disabilities.
Nonetheless, simply talking about different people is not enough. It is necessary to create enabling conditions, opportunities, and laws for people with special needs so they could study, work, play sports, and receive awards on an equal basis with others. In the fashion industry, the whole adaptive fashion movement has been recently on the rise. Tommy Hilfiger, Zappos, and other brands offer clothing collections for people with disabilities, ranging from underwear to jeans and sneakers.
#4. Cosmetics amidst the Climate Change
For Generation Z beauty products became a sort of self-expression. Young Instagrammers are focusing less on conventional beauty standards and more on expressing their creativity. And so, we have to expect more bright makeup looks.
As air pollution and UV radiation only get worse due to climate change, 2 out of 3 buyers would prefer getting sunscreen/SFP+ skincare products. It is also expected that people will become more conscious of their cosmetics choice, opting for more environmentally friendly alternatives.
We live in a world where even hair shampoo pollutes the water. Manufacturers often use components such as Carbomer, Ethylen-Vinylacetat-Copolymere, Nylon-6, and Polyethylene as key ingredients. These are composed predominantly of microplastics that end up floating in lakes and oceans and endangering flora and fauna, and the whole ecosystem of the Earth.
2023 might be the last chance for brands to jump on the sustainability bandwagon. Simply making a good product is no longer enough. It is important to consider how sustainable and recyclable the product is, and whether it leaves any carbon footprint.
For example, the Swedish grocery chain Felix opened a pop-up store called "the Climate Store'. The shop retails products that are labelled according to the level of carbon footprints, and the listed 'price' of every item is equivalent to its carbon dioxide (CO₂e) emissions. To help customers make better choices, the shop created colour-coded packaging for all products, indicating the product's climate impact.
#5. Account Monetization & Financial Literacy
It is time to launch your side hustle! It has been estimated that by 2023, 64% of Gen Z Instagrammers will be looking for new ways to convert their passion into profit, mainly relying on social media. At the same time, content creation will complement their main job, rather than entirely replace it.
Moreover, obtaining financial literacy will become a priority for Gen Z. Over 85% of Gen Z plan to learn a new skill in 2023 that will help them to improve their financial situation.
#6. Exploring Food Cultures
Did someone say snack time? This year food bloggers should be more creative than ever while making their content. Gen Z is keen to discover new cuisines and different cultures while tasting new food.
Around 68% of respondents tend to taste unusual food after seeing it on social media. Instagrammers will be interested in finding new cooking tips and recipes at the profiles of their favourite food bloggers in 2023.
#7. Return of the Rave & Rise of Global Beats
Rave gives you the mesmerising feeling of being in the moment, when you can let go of all bad things. It is expected that 68% of Gen Z will be interested in attending a rave next year. Besides, Instagram users are looking for ways to express themselves through songs and dancing moves. K-pop, Latinx, and African music trends are back on stage! These genres have made a profound impact on the music industry, becoming the hottest styles around the world. Soon they will be trending on Instagram stories or reels.
#8. Influencers' de-virtualization & New Content Forms
About a third of social network users are interested in offline meetings with influencers they follow on a social network. Generation Z also expects influencers and creators to start creating new forms of content. For example, over 40% of respondents would like to listen to podcasts made by their favourite bloggers.
As of 2021, over 19.1 million of Britons listened to podcasts. The audience of audio shows is growing by an average of 16% every year. Statista predicts that by 2026, the podcast audience in the UK will surpass 28 million. On average, users spend about 54 minutes a day listening to podcasts. It has become a great alternative for acquiring information.
#9. Dating on Instagram — With No Right Swipe Required
Love is in the air?! Instagrammers are turning to the app hoping to find that special one. Instagram Direct messages will soon be a safe place to make new friendships and develop romances, with no right swipe required. Gen Z is ready to break up with Tinder, and the emergence of mobile apps that combine the functions of dating platforms and social networks will only facilitate this process. For example, Snack, an app known as "TikTok meets Tinder", is an example of these developments.
An innovative dating app is trying to capture the attention of Gen Z. Many of them say they are tired of the mainstreaming apps that promote this "swipe to match" user interface.
Gen Z representatives are also very passionate about astrology and horoscopes. Almost half of the users answered "no" when they were asked if they would date someone with an incompatible astrological chart.
video caption