Feeling Stuck? 12 Brilliant Podcasts about Business and Career
Check out these podcasts whether you want to start a business, pivot to a new industry, or just handle your tasks better.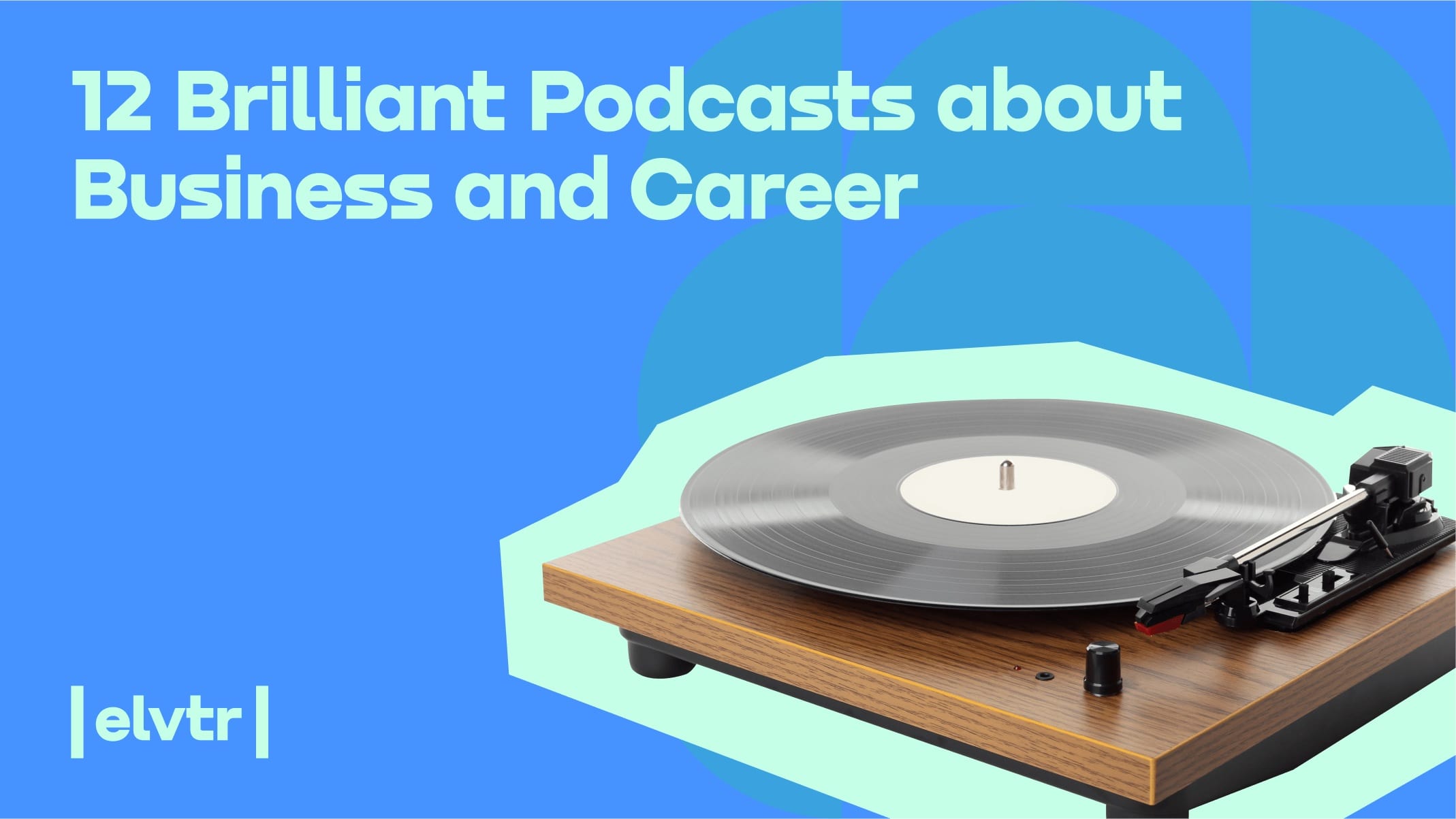 Podcasts are the new black, but regularly it's hard to pick the outstanding ones. However, the best business podcasts give a birds-eye view of widespread trends and practices. They also elucidate processes of profitable companies, help to boost the career growth, and encourage local businesses to go global. Finally, they offer insights into the minds of top-rated entrepreneurs.
Below, there are 12 podcasts to sharpen your business saw.
#1. The Tim Ferriss Show
Spotify, Apple Podcasts, Google Podcasts
Duration: 60–90 minutes
Release frequency: up to 10 episodes per month
Tim Ferriss is an American entrepreneur, author of NYT/WSJ bestsellers, investor (Facebook, Uber, Twitter, 50+ more), and host of The Tim Ferriss Show podcast (400M+ downloads).
Every week, he meets with market leaders, scientists, and investors, and discusses how to build a successful business. Here are some of the guests who participated in the podcast:
Brian Armstrong, an American business executive, billionaire, and investor who is a cryptocurrency platform Coinbase CEO.
Niall Campbell Ferguson, a Scottish-American historian at Stanford University and a Senior Fellow at the Belfer Center for Science and International Affairs at Harvard University.
Podcast guests share their tactics, tools, and routines to try.
#2. Startup Stories by Mixergy
Spotify, Apple Podcasts, Google Podcasts
Duration: 40–60 minutes
Release frequency: up to 3 podcasts per month
Mixergy is a digital platform containing interviews with over 1,500 entrepreneurs. These are bright minds like Jimmy Wales who turned Wikipedia into what we know today. Or Gregg Spiridellis, who had to watch his company JibJab fail, and now he can teach how not to lose your business by identifying the problem timely. So Mixergy's mission is to help you build a business and run it with passion.
#3. Masters of Scale
Spotify, Apple Podcasts, Google Podcasts
Duration: 30–50 minutes
Release frequency: up to 6 podcasts per month
The author of the podcast is LinkedIn co-founder and Silicon Valley investor, Reed Hoffman. In each episode he shows how companies have grown from scratch, discussing success stories and sharing the strategies that helped them grow from startups into global brands and to weather crises when it strikes.
Check out the podcast with iconic CEOs such as Richard Branson (Virgin Group), Susan Wojcicki (YouTube), Phil Knight (Nike), Bill Gates (Gates Foundation/Microsoft), and Brian Chesky (Airbnb).
#4. TED Business
Spotify, Apple Podcasts, Google Podcasts
Duration: 13–60 minutes
Release frequency: up to 5 podcasts per month
American social psychologist and Columbia Business School director Modupe Akinola presents powerful insights from the business world every week. Most of them focus on universal tasks: how to set goals, outthink your rival, develop relationships with your colleagues, eliminate injustice at work, or discover the next big innovation.
There's a TED speech for every business question you have, and this podcast brings them all together in a convenient format. After the speech, you'll also get a lesson from Modupe on how to bring those ideas into life.
The podcast is part of a large-scale project TED, an American-Canadian non-profit media organisation that posts international talks online for free distribution.
#5. How I Built This
Apple Podcasts, Google Podcasts
Duration: 60 minutes
Release frequency: up to 9 episodes per month
Behind the success of Airbnb, Beyond Meat, Instagram, Reddit, Starbucks, and other businesses lies a common thread — a starting point. An American journalist, radio host, and co-creator of three National Public Radio programmes Guy Raz dives into these stories with guests from world-famous companies.
His podcast is not about complete success — most of the episodes will take you on a familiar roller coaster with ups and downs and unexpected twists.
#6. Experience This!
Duration: 30–60 minutes
Release frequency: up to 5 episodes per month
The podcast delves into fascinating and inspiring customer experience examples, shares great stories of exceptional customer service, and provides valuable tips on how to enhance your brand's customer appeal.
Customer retention expert Joey Coleman and social media expert Dan Gingiss will help you attract and keep more customers to grow your business, increase your profits, and have more fun in the process.
#7. The Influential Personal Brand
Duration: 15–60 minutes
Release frequency: up to 6 episodes per month
Many podcasts highlight the importance of building a personal brand, but only a few of them share deeper insights on how to do it.
The Influential Personal Brand podcast is hosted by the New York Times bestsellers author and Hall of Fame Speaker Rory Vaden and his wife, business partner, and CEO of Brand Builders Group, AJ Vaden. With their combined expertise, they offer actionable strategies and tactics to help you discover your unique strengths and distinguish yourself from the competition, resulting in greater influence and financial success.
#8. Culture First
Duration: 30–60 minutes
Release frequency: up to 4 episodes per month
Culture First podcast uncovers what it takes to build a better world of work. It is a show by Culture Amp, the HR platform. Canva, Etsy, Oracle, McDonald's, and other 6,000+ companies power up their employees' experience with Culture Amp.
Culture First podcast is hosted by an Australian speaker, startup advisor, and company employee Damon Klotz. He joined Culture Amp and scaled its community: the employees and customer base grew by over 2500%. In each podcast episode, Damon Klotz aims to explore the importance of finding meaning in work and improving the experience of individuals within organisations.
#9. The Pitch
Spotify, Apple Podcasts, Google Podcasts
Duration: 25–60 minutes
Release frequency: up to 3 episodes per month
The Pitch business podcast takes you behind closed doors to the world of startups where people sell their ideas for millions. The show features entrepreneurs in need of venture funding as they pitch to a live panel of investors.
The podcast will help you understand what makes investors tick, and how initial conversations can bloom into business deals — or die on the vine. It is hosted by Josh Muccio, co-founder of The Pitch podcast, and produced in partnership with Vox Media.
Here are a few episodes to get you started:
How to Crush Your Pitch to Investors. Learn the tips and tricks from some of the most successful pitches.
Badass Female Founders. These women know how to secure the bag.
How Not to Pitch Your Startup. Tips on what to avoid during a pitch meeting.
With accolades in top media outlets including CNN, Forbes, Inc., and more, the show reaches an audience of 10 million people including entrepreneurs and business leaders.
#10. Planet Money
Apple Podcasts, Google Podcasts
Duration: 30 minutes
Release frequency: up to 2 episodes per month
Planet Money simply explains how the economy works. For example, how does socialism work, what should we do with the 8-hour working day, or what should be the minimum wage.
The podcast was created by American entrepreneur Alex Blumberg and American journalist Adam Davidson. In 2008, after the US mortgage crisis, Blumberg and Davidson took part in the radio programme called This American Life. They became the authors of an episode called The Giant Pool of Money about the causes and factors that led to the crisis.
Its release was so important that the Library of Congress added it to the National Audio Recording Registry, which also lists Martin Luther King's speech and Bob Dylan's album. Building on the success of this episode, Blumberg and Davidson created their podcast.
#11. Business Wars
Duration: 40 minutes
Release frequency: up to 4 episodes per month
Netflix vs. HBO. Nike vs. Adidas. Tiktok vs. Instagram. Xbox vs. PlayStation. Business is war. The outcome of these battles shapes what we buy and how we live.
Business Wars podcast gives you the unauthorised, real story of what drives these companies and their leaders, inventors, and executives to new heights — or to ruin.
The host of the podcast is David Brown, who previously served as an anchor on Marketplace, a public radio programme that has won the prestigious Peabody Award. American Editions Inc. and Fortune have included Business Wars in their lists of the best podcasts. New episodes come out on Wednesdays for free.
#12. Girlboss Radio
Duration: 40 minutes
Release frequency: up to 4 episodes per month
Girlboss Jobs is the largest job marketplace in the world exclusively for women. Girlboss Radio's mission is to help women achieve success on their terms.
It is hosted by Avery Francis, a veteran HR who specialises in implementing diversity, equity, and inclusion practices. Francis has been featured in Forbes and named a Top 40 Woman in Tech by Betakit.
The Girlboss Radio podcast features interviews with trailblazing C-suite executives, pioneering founders, and inspiring activists. Guests include American model Ireland Baldwin, Georgina Gooley, a former account lead at Old Spice and McDonald's from Australia, as well as other notable individuals.
Fortune magazine named Girlboss one of the best business podcasts. Discover boundary-pushing women who are redefining success on their own terms through interviews on a must-listen podcast with 23+ million downloads.
video caption